TIFF Review: Middle Of Nowhere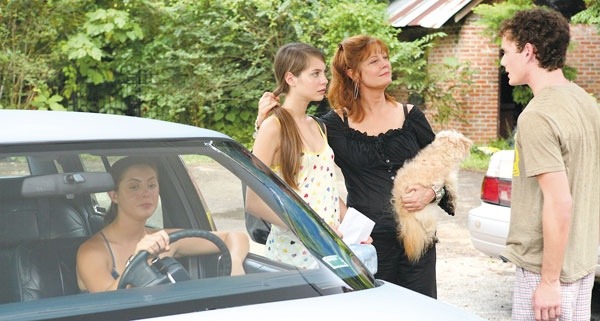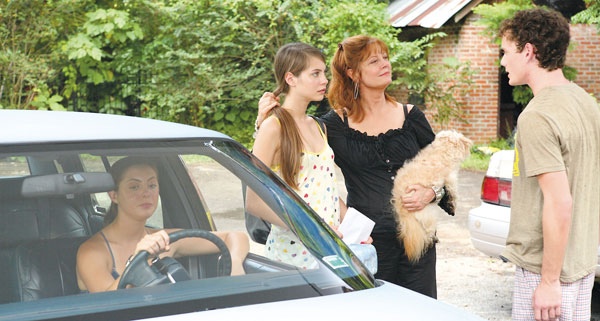 John Stockwell is a director who has consistently disappointed me throughout his career. Stockwell showed promise with his 2001 film Crazy/Beautiful, starring Kirsten Dunst and Jay Hernandez, but has since made a series of clunkers: Blue Crush, Into the Blue and Turistas. I'm not sure why Stockwell got stuck into a tropical water slump, but thankfully he has found his way out and gone back to his roots with Middle of Nowhere.
Grace (Eva Amurri) has worked hard in school to get the good grades, but the credit debt her mother (Susan Sarandon) racked up under her name as a child has prevented her from getting approved for the student loans she needs to go to College. Meanwhile, 17-year-old rich screw-up Dorian (Anton Yelchin) is sent to live at his uncle's house for the Summer to learn the value of responsibility while working for $42 a day before taxes at a local water park. It is there that he meets Grace, and convinces her to become his driver, as he sells drugs to the area stoners. This isn't a job that Grace eagerly accepts. But as she can find no other way to raise the $12,000 needed for her fall semester, she reluctantly goes along for the ride. And there is Grace's sister Taylor (Willa Holland), who is being pushed by her mother to pursue a career in modeling. Over the course of the summer, the dark details behind Grace's father's suicide are revealed, Dorian finally discovers where he came from, and a romance blossoms between Grace an a rich stoner named Ben (Justin Chatwin), whom she meets while working the water slides.
Eva Amurri is an actress to watch out for in the years to come. In Middle of Nowhere, she delivers an emotionally authentic performance which might even make you forget about current It-star Anton Yelchin, with whom she shares the screen with. The role of Grace's mother plays directly to Susan Sarandon's strengths. And over the course of the 95 minutes, director John Stockwell makes up for the last seven years of crappy movies, which is saying a lot. I just hope we don't have to sit through seven more years of Into The Blue's. Stockwell needs to stick with character rich low concept stories like this one.
Middle of Nowhere is multi-layered coming of age story with authentic performances. It is the type of film that would have played at the Sundance film festival five years ago before quirky became indie.
/Film Rating: 7.5 out of 10