The International Movie Trailer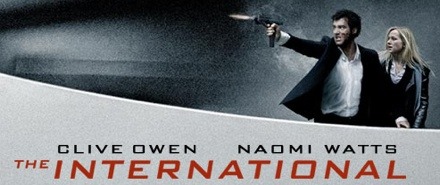 Columbia Pictures has released the trailer for The International. Clive Owen stars as Interpol Agent Louis Salinger, who with the help of Manhattan Assistant District Attorney Eleanor Whitman (Naomi Watts) are on a mission to "bring to justice one of the world's most powerful banks."
"Uncovering myriad and reprehensible illegal activities, Salinger and Whitman follow the money from Berlin to Milan to New York to Istanbul. Finding themselves in a high-stakes chase across the globe, their relentless tenacity puts their own lives at risk as their targets will stop at nothing – even murder – to continue financing terror and war.
The trailer is pretty unimpressive, especially considering the film is directed by Tom Tykwer, the filmmaker behind Run Lola Run, The Princess and the Warrior and Perfume: A Story of a Murderer. Pieries saw an advanced screening and called the movie "brilliant", "the definition a GREAT script. Quality film making." But warns that "it is NOT for everyone." ... "The movie is 80% MICHAEL CLAYTON (much better though) and 20% BOURNE! "
[flv:http://bitcast-a.bitgravity.com/slashfilm/trailers/theinternationaltrailer.flv 470 194]
As always, tell me what you think after the jump. The International hits theaters on February 13th 2009.