Soderbergh To Direct "Liberace" Biopic, Michael Douglas To Play Lead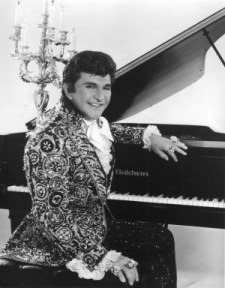 Steven Soderbergh's career has always been incredibly diverse, ranging from the audacious Sex, Lies, and Videotape to the fluffy Ocean's trilogy. Now comes word from Variety that Soderbergh is helming a biopic based on pianist Liberace's life, a film still in early stages of development. Soderbergh wants Michael Douglas for the lead role, while Matt Damon is in discussions to play Scott Thorson, who claimed to be Liberace's live-in boyfriend and sued him for $113 million in palimony.
I'm hopeful for this film's potential because Liberace, who died in 1987, seems like he lived a life that doesn't conform strictly to what I'm now calling the "Walk Hard paradigm" of biopics (i.e. musician overcomes the pain and horror of a family tragedy, achieves fame by the skin of his teeth, becomes hedonistic/misogynistic, deals with drugs/alcohol addiction, finds redemption in the end). Despite the fact that they've become tired and similar to each other, as a musician myself, I feel like some of the best moments of those types of films are when they convey the wonder and excitement of performing in front of large groups of people. Liberace's career certainly seems like it would facilitate these types of powerful moments.
The film will not be Soderbergh's next film, which is The Girlfriend Experience, and won't even be his next film after that, so regardless of what you think of the idea, we won't be seeing this one for awhile. Still, the movie seems like it could be an interesting way to introduce the entertainer to a whole new generation of moviegoers, many of whom probably only know Liberace by name and reputation, and not for the specific details of his musical career. As for Michael Douglas in the lead role, it'll be heartening to see him truly flex his acting muscles for the first time in awhile.
Discuss: A Liberace biopic – Good idea/Bad idea? Also, what do you think of Michael Douglas in the lead role?
Source: Variety