"Max Payne" Director John Moore Upset Over R-Rating, Claims MPAA Gave WB A Blowjob For "Dark Knight"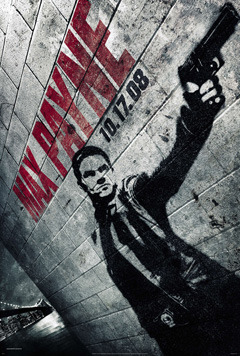 A PG-13 rating can open a film up to a wider audience than an R-rating, making a big box office take just a tad more attainable. It's not a huge mystery, then, why Max Payne director John Moore is none too pleased with the MPAA's decision to give his upcoming film, Max Payne, an R. In a recent interview with Das Gamer, John Moore, who is apparently trying to cut the film down to qualify for a PG-13 (its original target rating) expressed some of his frustration, saying:
We're suffering from what I call Batman blowback. The Motion Picture Association of America gave The Dark Knight a PG-13 rating and basically sucked Warner Bros. c**k...The MPAA changes their rules willy-nilly and it depends on who's seeing your actual movie at the time. It's very difficult to get a hold on what's acceptable. The only thing you can use is current standards. So I go and see The Dark Knight and I say, "Gee, that's pretty gnarly for PG-13," but I felt good about Max Payne after coming out of the theater. I thought Max wasn't going to have a problem. And that's not the case. They're coming down on us pretty hard.
Moore goes on to say that the MPAA's inconsistencies are really coming back to haunt the organization:
[The MPAA] really hung themselves with The Dark Knight. Every other filmmaker in town is knocking on their door saying, "Please sir, may I have my PG-13 rating and be as fair to my movie as you were to The Dark Knight."
Be sure to head over to Das Gamer to read the rest of the interview.
I am very sympathetic to Mr. Moore's plight and I couldn't agree more about the MPAA's horrendously inconsistent guidelines and its shameless kowtowing to big studios. But The Dark Knight? Really? The movie was certainly dark and Two-Face's makeup/CGI job might have been a bit too intense for some of the young ones, but the movie was almost completely bloodless and very few deaths (Joker's "magic trick" being the most notable exception) are shown on screen. This was actually one of my original complaints about the film: By not going full-bore with an R-rating, it didn't have the flexibility to fully and visually explore the horror of some of Joker's crimes.
Until Max Payne comes out, we wish Mr. Moore the best in his battle to get his film the rating he thinks it deserves. But in the meantime, what do you guys think of Moore's remarks?
Discuss: Should "The Dark Knight" have been rated R? Or did the MPAA really fellate Warner Brothers, as Moore describes?
via Kotaku