Inside Man Sequel Moves Forward With Lee, Possible Script By Terry George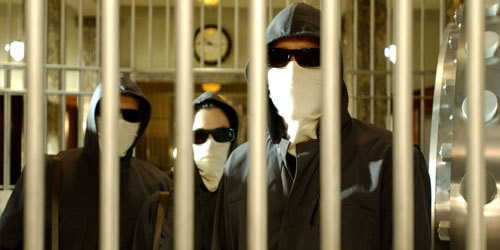 Speaking at the Toronto Film Festival to promote Miracle at St. Anna, Spike Lee has confirmed that plans for a sequel to his 2006 film Inside Man are in motion, with Terry George in negotiations to write the script. Lee plans on returning to direct the sequel, tentatively and creatively titled Inside Man 2. Inside Man was scriptwriter Russell Gerwitz's first-ever feature-length script, and I thought he and Lee did a damn good job at crafting a gripping bank caper (the next movie you may see featuring Gerwitz's work is Righteous Kill). Terry George has written critically acclaimed films such as In the Name of the Father and Hotel Rwanda. Undoubtedly, a collaboration between George and Lee for Inside Man 2 will continue to lend the heist film genre some more credibility and (hopefully) some more commercial success, just as the first film did.
According to Lee, the movie may feature the same characters from Inside Man, with Denzel Washington and Clive Owen reportedly interested in reprising their roles. The new film would develop their relationship further, but in a different standoff-like situation.
Source: THR
Discuss: What robbery/heist scenario can you imagine that would top the first film?