Sam Raimi And Tobey Maguire Will Return For Spider-Man 4. Sony Wants Spider-Man 5 Shot Back-To-Back. Venom Spin-Off News.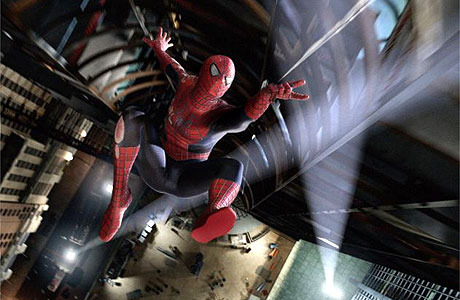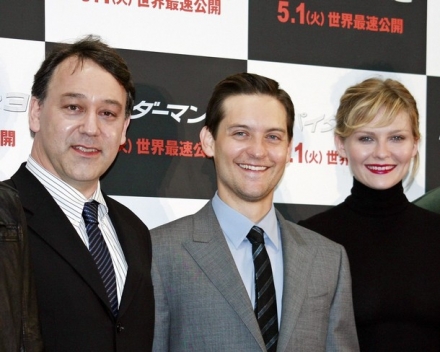 Nikki Finke reports that Sony has locked in both Sam Raimi and Tobey Maguire for Spider-Man 4. Kirsten Dunst's Mary Jane character is said to be included in the sequel(s), so the actress is rumored to be returning as well. And in the execs' best case scenario, Raimi and Maguire would shoot Spider-Man 5 back-to-back. This would confirm what we reported this May: Screenwriter James Vanderbilt (Zodiac, The Rundown) turned in a script for the third sequel that, much to Sony's liking, segued smoothly into an arc for a fifth film. Specific details on what it took to bring back the original star and director are not yet available. Spider-Man 4 remains set for a May 2011 release.
Per villains for a fourth film, Finke's source hints, "once you find out who the villain is, you'll know who's playing it," leading everyone to speculate that actor Dylan Baker, who played Dr. Curt Connors in Spider-Man 2 and Spider-Man 3, will fight Spidey as The Lizard. Last year, Slashfilm gave 95% odds that The Lizard would be the main villain in the third sequel. Next time, call your bookie and send us 20% of the Euros.
Our reasoning was the dynamic relationship involved a la Harry Osbourne's Goblin: "Connors developed an experimental serum taken from reptilian DNA, which he tested on himself and was subsequently transformed into a reptilian humanoid monster. Peter Parker worked as a teaching assistant to Dr. Connors at Empire State University, although Connors had no idea that Peter was actually Spider-Man."
Included in Finke's report is an update on the status of the Venom spin-off, a project that has divided fans and our readers, just like the jock-like character, for years. In what would be Marvel's first feature headlined by a villain, Finke's sources say that Topher Grace, who played the character in the much maligned Spider-Man 3, is still the front-runner due to, and I paraphrase, a sympathetic boy-next-door appearance.
Discuss: Good news? Personally, I think Spider-Man should fight a new villain made out of hundred dollar bills. Do you think speculation about The Lizard is correct? Venom or bust? Where does this leave Raimi's Evil Dead sequel and Maguire's RoboTech?Wow, Calm Down, Ha: Early word is that they are not going in a "gloomy Dark Knight direction."