Nic Cage Says Ghost Rider 2 Is Headed To Europe. UPDATE: Says Kick-Ass Won't Be Gratuitously Violent?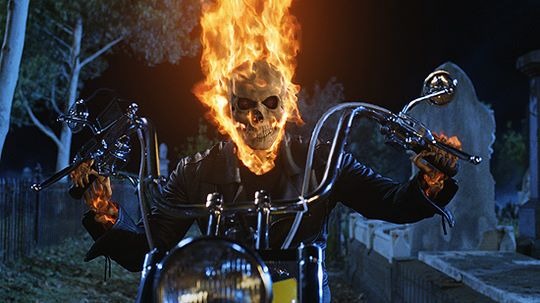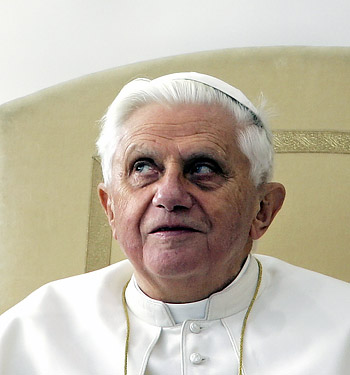 Ghost Rider's passport just arrived in the mail. The Pope's assistants have laid out the welcome mat. The only thing left to do is get the $60 t-shirts screen-printed for the "Flaming European World Tour" and it's sequel time. Man of the hour, Nic Cage, is talking up Ghost Rider 2 during his press rounds for this weekend's proto-ridiculous Bangkok Dangerous. Move away from any flammable materials and laughing gas before reading this quote...
"Yes, actually, had a nice meeting with the studio about 3-months ago," Cage told Coming Soon, "and we talked about going international with that character. Taking him into Europe, having him go on a motorcycle tour through Europe, and he's connected with the church, if you can believe that. So it sort of has elements to it that are very much in the zeitgeist, with The Da Vinci Code and things like that."
Over at Dark Horizons, Cage added that the plot will have Johnny Blaze "working with different religious figures." Did these interviewers bring a smirk-o-meter? I'm not an aficionado on this character or the canon, but Nic Cage subbing for Tom Hanks in The Da Vinci Code with a flaming skull sounds like a great pitch for a new show on Adult Swim. Let's hope Marvel and Sony flick on the greenlight.
Oh, and Cage also added that he's a great fit for Matthew Vaughn and Mark Millar's $70 million Kick-Ass because as a kid he used to dress up as a superhero and go fight imaginary crime past his bedtime. Slashfilm offers a toast.
UPDATE: Uh oh. Before we begin, let me state that I have full confidence in Matthew Vaughn to bring Kick-Ass to the screen in all its manic, blood-letting, super-hyped glory. The cover to the right states, "Sickening violence just the way you like it!" Two days ago, we reported that the independently funded, provocative comic book film had its budget raised by $40 million, with Vaughn previously stating that going indie was the only way to stay faithful to the source material. But now Nic Cage tells MTV that...
"I'm not fond of gratuitous violence," said Cage, who will play the role of a retired cop determined to take down a druglord. "...there will be some moments of action that will be violent, but there will be a sense of elegance to it. [Matthew Vaughn] doesn't want to get gratuitous with it. At least that's what Matthew has told me."
As /Film reader, "Oi Vey," points out: isn't this Bangkok Dangerous clip a primo example of "gratuitous violence?" Nice point. Either way, Cage's on-record obliviousness is a great way to get fanboys on the bad side of this project, especially when Universal's adaptation of Millar's Wanted retained most of his signature explicit violence while doing away with cool plot points. Millar has stated that Kick-Ass's mayhem will far surpass Wanted's, but the announcement of Cage's involvement was already testing fanboy waters. There's only one solution, fire him. Well, he did make Vampire's Kiss and Wild at Heart, so maybe not. But give him a pep talk.
Vaughn has expressed for years that when he finally sinks his teeth into a comic book flick—at one point this film was X3, then Thor—it will be nothing less than balls-out spectacular. Unless he confirms Cage's toned-down impression, Kick-Ass remains at the top of my list.
Discuss: Ghost Rider 2 a chance at being one of the greatest sequels of all time, no? By all means readers, what should the subtitle be? Euro Trip? Who should play The Pope? And what's up with Cage's odd remarks about Kick-Ass?