This Week In DVD: The Office, Desperate Housewives, Supernatural, The Promotion, And More
This Week in DVD is a column that compiles all the latest info regarding new DVD releases, sales, and exclusive deals from stores including Target, Best Buy, Circuit City, and Fry's.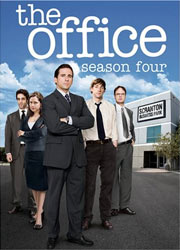 THE OFFICE (SEASON 4)
Season Four of The Office may not be the best display of episodes the show has to offer, but it's still a great season all the same. The most notable issue is that the story arc isn't quite as well-rounded this go around, which is due in large part to the season being truncated to 14 episodes (thanks writer's strike!). That's not to say there haven't been some interesting developments. For one, Jim and Pam are officially together now, and somehow the writers were able to carefully downplay it so the character's wonderful dynamic together hasn't been affected at all. Even more interesting though is Michael's relationship with Jan, which is taken to a much darker place than ever has been before and continues to reverse our perceptions of him. It's things like this that are part of what makes The Office above and beyond one of the best comedy shows on television.
Blu-ray? No.
Notable Extras: Four commentaries, deleted scenes, outtakes, "Did I Stutter?" Read-Through, The Office Convention Invitation, The Office Convention: Writer's Block Panel, and a Goodbye Toby Music Video.
EXCLUSIVE DEAL:
What? Deluxe edition ($36.99) with 60 minutes of bonus cast footage and notepad.
Where? Target.
EXCLUSIVE DEAL:
What? Gift set ($42.99) with t-shirt, water bottle, and wristband.
Where? Best Buy.
EXCLUSIVE DEAL:
What? Free The Office Stapler in "Gelatin" Mold.
Where? Circuit City.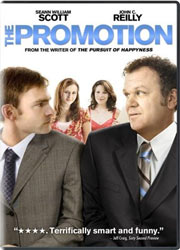 THE PROMOTION
Starring Seann William Scott and the always hilarious John C. Reilly as two assistant managers of a corporate grocery store dueling for the same promotion, this comedy seems like a halfway decent version of Employee of the Month. It's gotten a pretty mixed response from critics and audiences, as apparently it's a low-key and forgettable affair, but if you're feeling lazy and are in need of a video rental, this seems like a decent choice.
Blu-ray? No.
Notable Extras: Filmmaker commentary, deleted scenes, making-of featurette, webisodes, and outtakes.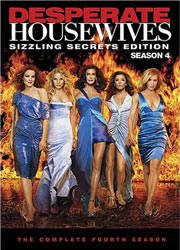 DESPERATE HOUSEWIVES (SEASON 4)
Admitting to people that I like this show is almost like I admitting I have a vagina, but after three seasons of sneaking around to avoid people finding out my terrible secret, I just can't contain it any longer. I love Desperate Housewives. There, I said it. And even though I haven't yet had the privilege of checking out Season 4, I will happily pick up the DVD box set, as I've heard from some that this is the best season since the first. Don't disappoint me, you drama-filled, love-entangled crazy Wisteria Lane bitches! [Season 4 contains 17 episodes, also shortened due to the writer's strike.]
Blu-ray? No.
Notable Extras: "Couples commentary" (in which the stars pair up to talk about favorite season 4 moments), two featurettes ('Getting Desperate From Beginning To End', ' Men of Wisteria Lane'), deleted scenes, and bloopers.
EXCLUSIVE DEAL:
What? Free $10 Target GiftCard with purchase of both Desperate Housewives (Season 4) and Eli Stone (Season 1) ($29.99).
Where? Target.
EXCLUSIVE DEAL:
What? Save $10 when you buy both Desperate Housewives (Season 4) and Eli Stone (Season 1) ($29.99).
Where? Best Buy.
EXCLUSIVE DEAL:
What? Free ABC TV sampler with pilot episodes.
Where? Circuit City.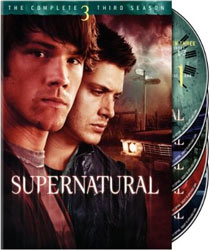 SUPERNATURAL (SEASON 3)
I'll leave it up to you guys to tell me whether this show about two brothers who battle evil spirits deserves to be in "The Good" section or not. Critical reaction seems to lean toward the negative, whereas audience response seems to be exceptionally positive. Being that I'm a big fan of this demon-infused genre (less so of WB teenager melodramas), and since you guys did such a job convincing me Prison Break was worth checking out, I'd love to hear whether I'm missing out by not giving it a chance. [Season 3 contains 16 episodes.]
Blu-ray? Yes (releases November 11, 2008).
Notable Extras: Seven "A Closer Look" featurettes, Ghostfacers! Confessionals, a special effects featurette, a featurette on Dean's car, and a gag reel.
EXCLUSIVE DEAL:
What? Calendar.
Where? Target.
EXCLUSIVE DEAL:
What? Free collectible '67 Chevy Impala model on pack.
Where? Best Buy.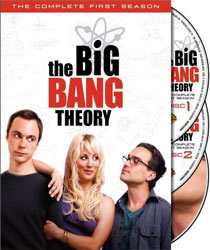 THE BIG BANG THEORY (SEASON 1)
Yet again we've struck a show that I don't watch, this one being a sitcom about "a woman who moves into an apartment next door to two brilliant but socially awkward physicists who shows them how little they know about life outside of the laboratory." (IMDB) Much like Supernatural, critics seem to be divided on this one, yet it has a select group of self-proclaimed "geek" fans who are absolutely nuts about it. Personally, I might've been willing to give it a chance before watching several clips online, but being that I didn't laugh once, and am also wondering how there's enough material for more than an episode (let alone a season), I think I'll pass. [Season 1 contains 17 episodes.]
Blu-ray? No.
Notable Extras: A making-of featurette ('Quantum Mechanics of the Big Bang Theory').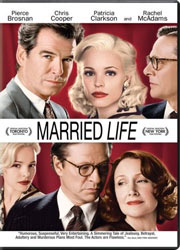 MARRIED LIFE
According to the reviewer response on Rotten Tomatoes, the best thing Married Life has going for it is the fantastic performances from its talented ensemble cast, which includes Chris Cooper, Pierce Brosnan, and Rachel McAdams. The film is a darkly witty "1940s-set drama where an adulterous man plots his wife's death instead of putting her through the humiliation of a divorce." (IMDB) Despite that great premise, it's been said that the movie has tone and pacing problems that prevent it from reaching greatness.
Blu-ray? Yes.
Notable Extras: Audio commentary and three alternative endings.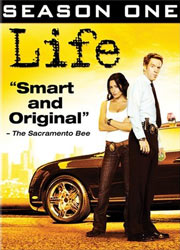 LIFE (SEASON 1)
Some people may find it unfair of me to instantly label a show as bad due to a single video clip, and normally I would agree with the sentiment... Then I saw THIS. As a gamer, it actually pains me to watch that footage. Any show that can combine so many illogical concepts, poorly handled clichés, and a complete disregard for reality in such a short span of time just cannot be considered quality television.
Blu-ray? No.
Notable Extras: Five audio commentaries, deleted scenes, a blooper reel, and several featurettes.
Other noteworthy DVDs available this week...
Then She Found Me – Eli Stone (Season 1) – Bright Lights, Big City – Cheers (Season 10) – How to Rob a Bank – Ghost Whisperer (Season 3) – Itty Bitty Titty Committee – Outsourced – The Next Avengers: Heroes of Tomorrow
Discuss: What are you planning to rent or buy this week?

NOTE: Some deals may be in-store only.

Exclusive: Free exclusive comic book included with purchase of Next Avengers ($14.99).
$9.99 – Charlie Wilson's War, The Bourne Ultimatum, Superbad, 10000 BC, American Gangster, 3:10 to Yuma, Gone Baby Gone, We Own the Night, 30 Days of Night, Cloverfield, Bee Movie, The Assassination of Jesse James by the Coward Robert Ford, The Simpsons Movie, Atonement, The Fast and the Furious (Franchise Collection), and more...

$4.99 – The Monster Squad (2-Disc 20th Anniversary Edition), Crash, Walk the Line, Dirty Dancing (20th Anniversary), The Punisher (Extended Cut), Lord of War, Cast Away, First Blood, Alien, and more...

$3.99 – The Silence of the Lambs, Robocop, Raging Bull, When Harry Met Sally, This is Spinal Tap, The Usual Suspects, Rocky, The Good the Bad and the Ugly, Hoosiers, Back to School, Walking Tall, The Amityville Horror, and more...
$6.99 – Donnie Darko (Director's Cut), Little Miss Sunshine, The Illusionist, Kingdom of Heaven, and more...