Telluride: Hunger, Helen And A Slumdog Video Blog
Sunday has been dark and dreary at the 35th Telluride Film Festival. The rain stops for a few minutes, and only a few minutes.  For the most part, festival-goers can be seen hiding under umbrellas or the make-shift tents set up outside the festival venues. It's one of those days where you can see everyone would just rather be in their beds, sleeping in. I mention the mood because this is the feeling I have after my first two screenings of the day. It's not that they were bad films, they just weren't for me. And you will notice a theme, both movies contained notable cinematography, both for elegance and annoyance.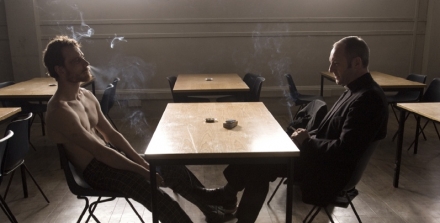 Steve McQueen's (no relation to THE Steve McQueen) Hunger won the Golden Camera prize for first-time filmmakers at the 61st Cannes Film Festival. The film tells the story of Bobby Sands, an Irish republican maze prison hunger striker. The film is grueling to watch. You should probably know that Requiem for a Dream is one of my favorite films, and I have watched it many times. But watching Hunger is a lesson in depression. Prisoners are tortured, humiliated, and beaten bloody. One of the prison guards regularly washes his bloody bruised knuckles in a sink of water.
The center piece of the film is a 20-or-so minute dialogue scene between Sands and a Priest (seen in the photo above), which takes place in one complete wide shot, with no camera movement or cuts. And if Funny Games taught us anything, it is that if you don't move the camera during an extended film sequence, it's all of a sudden considered artsy. And the conversation is followed up a few minutes later with a five minute long shot of a prison worker sweeping a hallway in another non-moving wide shot. Don't get me wrong, the one strongpoint of the film was the cinematography. But to me, it is the complete opposite of cinematic and screaming "look at me, I'm not moving the camera". Michael Fassbender's transformation during the six-week hunger strike is extremely hard to watch. Fassbender lost 35 pounds over the two months which lead up to the hard to watch final sequences.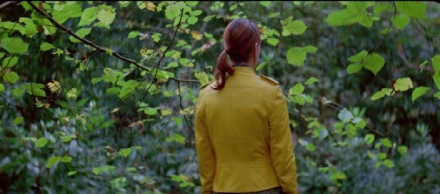 And the other film was Helen, the feature film debut by Christine Molloy and Joe Lawlor. 18-year-old Joy has disappeared, and was last scene walking into the woods. Joy's coat and personal items were found in the forrest, but the police are hopeful that she might still be alive. They plan a television reenactment of the disappearance in hopes that it might help someone remember more details. But Helen is not about the mystery, and you should know going in not to expect a conclusion. Helen is about Helen, an 18-year-old classmate of Joy's who volunteers to be Joy's stand-in for the reenactment. She was picked in a volunteer casting session because she has a strong physical resemblance to Joy.
Helen has been living in the custody of the state since a young child, and currently works at a hotel a few days a week in between school hours. She's never had a boyfriend, or friends for that matter. Joy convinces herself that she might be able to uncover the mystery of Joy's disappearance by integrating herself into Joy's former life. She has dinner with Joy's parents, kisses Joy's boyfriend, and so on. And in the process of pretending to be someone else, Helen finds out who she really is, or at least was.  Like Hunger, the most interesting and annoying part of Joy is the cinematography. Malloy and Lawlor love to use simple slow extended dolly shots in almost every sequence. They are done for tonal reasons, rather than for dramatic effect. The shots are both beautiful and elegant but will test the patience of almost any audience.
And this morning I decided to record another quick video blog, again with Alex from FirstShowing, on our gondola ride over the mountain. We talk about Danny Boyle's Slumdog Millionaire, Alex shares his opinion on Flame and Citron, and we go over the Benjamin Button controversy.
[flv:http://bitcast-a.bitgravity.com/slashfilm/trailers/tell14.flv 300 226]