Bollywood's Hari Puttar Being Sued By Warner Bros For Harry Potter-Ish Title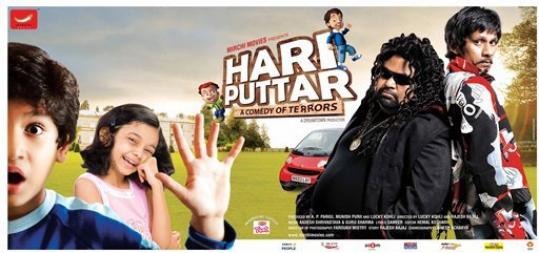 Questionable Internet/playground slang alert: A Bollywood family film entitled Hari Puttar: A Comedy of Terrors is the target of a Warner Bros. lawsuit. The point of contention lies in the title's similarity to the studio's multi-billion Harry Potter franchise. Sillier still, Hari Puttar is described online as a blatant Home Alone knockoff. So the robber on the left is Bollywood's version of Joe Pesci? Serious algebra. As you'd expect, Puttar's producers and crew are claiming innocence...
"Hari is a very common Indian name and Puttar stands for son in English," the film's music director Aadesh Shrivastav said at the music release of the film earlier.
This is true, and I don't think the lawsuit holds much weight, but c'mon, the general approach of "Whaa? Harry Potter? Ours is Hari P-u-t-t-a-r" is straight out of This is Spinal Tap (or Bollywood's knockoff, Tiger Sandwich). Judging from this 2007 event flyer, the similarity didn't elude Duke University's South Asian Student Association. And if you're curious, here's the logline...
The film revolves around a ten year old boy, Hari Prasad Dhoonda (nicknamed Hari Puttar) who has recently moved from India to the United Kingdom. Left home alone with his cousin Tuk Tuk  when his parents go on vacation, Hari must deal with two burglars who hope steal a secret formula Hari's father had created.
Discuss: Who do you side with, Puttar or Potter or Daniel Stern? Do you think Warner Bros. has a case? Should American kids see Hari Puttar?