Video Blog: Chuck Jones Theater And The Future Of Film Festivals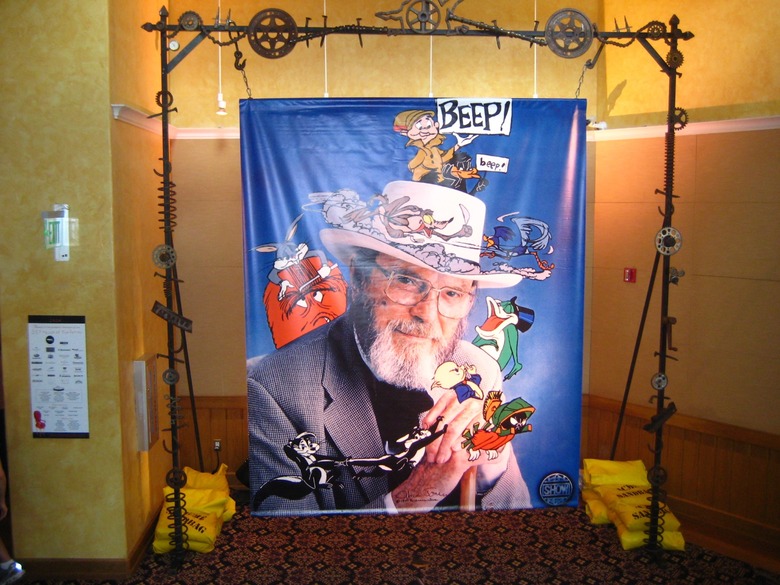 It's the weekend and a slow news day, so I thought I'd give you a brief tour of one of the theaters at the Telluride Film Festival. The Chuck Jones theater is dedicated to the famous artist responsible for the classic Looney Toons shorts. The whole place is themed around Chuck and the characters he has most famously worked with, down to the ticket passes that festival goers need for admittance. Unfortunately, photos were not allowed in the theater itself, which is lined with blow-ups of some of Jones' parody sketches and paintings. The other 361 days a year, the theater is actually a convention center. While you're waiting for the movie to begin, famous Chuck Jones quotes play on the screen, accompanied by sketches and short clips from some of his famous cartoons. For example, one quote read: "Painting was an art that became a business. Animation was a business that became an art."
[flv:http://bitcast-a.bitgravity.com/slashfilm/trailers/tell12.flv 300 226]
One of the great new features at this year's festival are a series of Dell network kiosks which can be found at various festival venues. The kiosks show you which movies are scheduled to play at all of the festival venues, along with an updated number of people who have gotten in line. This is extremely helpful, since travel from one venue to another could be a 45 minute trip. And I cant tell you how many times I've taken a one-hour journey across Park City at Sundance, only to find that I wouldn't have had a chance to get into a film, even if I had arrived 45 minutes earlier. I'm sure many festivals will adopt such a system, and find better ways to integrate it with mobile phones.
[flv:http://bitcast-a.bitgravity.com/slashfilm/trailers/tell13.flv 300 226]