Telluride: David Fincher Tribute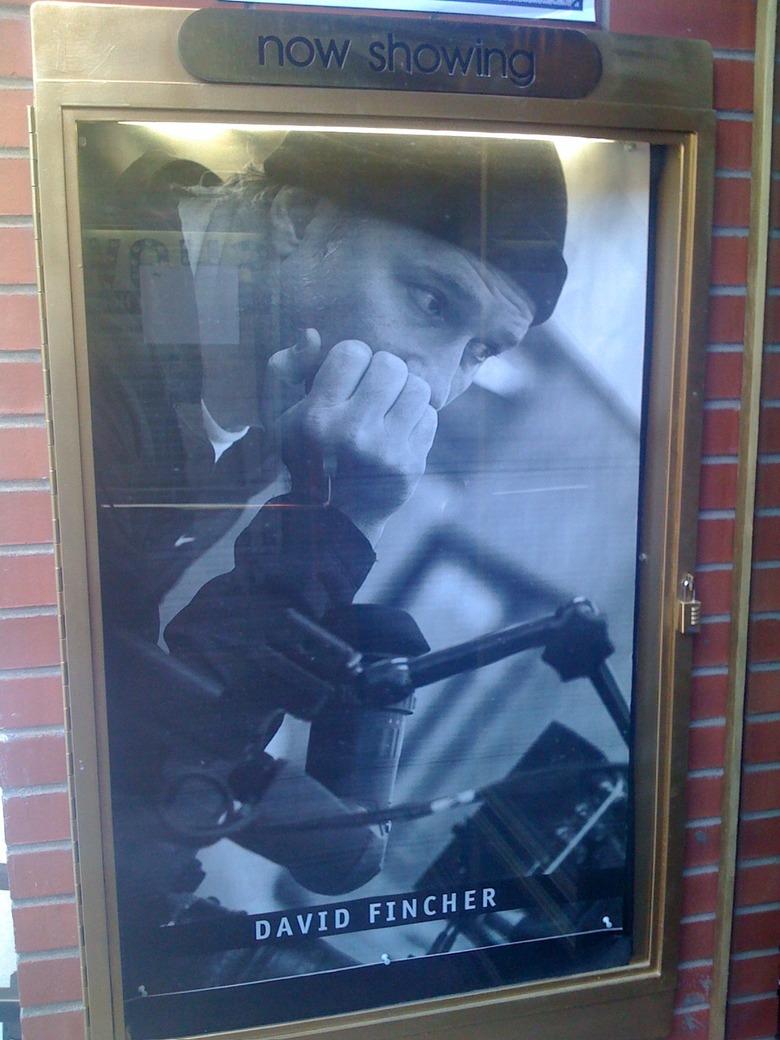 Last night the Telluride Film Festival held a tribute for director David Fincher. After an introduction by festival sponsor documentary filmmaker Ken Burns, and a package of clips spanning Fincher's career from Music videos, commercials, to Se7en, The Game, Fight Club, Panic Room and Zodiac, Variety's Todd McCarthy took the stage to do a 1:1 interview with the director. Here are some highlights from that conversation:
Fincher admitted that much of his early years discovering cinema consisted of Thrillers and scary movies. His favorites included Jaws, I Saw What You Did, and Rear Window.
When asked why he creates a lot of films under morbid ideas, Fincher said that he makes whatever scripts that interest him. Plus, "They haven't offered a lot of romantic comedies," he joked.
Fincher remembers the exact moment when he realized that he wanted to make movies for a living. He was eight years old, probably cutting school, when he came across a documentary on the making of Butch Cassidy and the Sundance Kid. Fincher said that before that documentary, it had never occurred to him that movies weren't made in real time, and he came away amazed at all the work that was involved behind the scenes. After watching the doc, he got into his father' car and said "I want to make movies."
McCarthy asked if Fincher would every make a western. "There's animals in westerns right?" Fincher joked, before answering probably not.
Growing up in Marin County, George Lucas was his neighbor. American Graffiti was shot on the street near his house, and Fincher watched them film some scenes off to the side. Other films that came through his neighborhood included Godfather and Invasion of the Body Snatchers. Most of Fincher's friends had their heads shaved to be in Lucas' THX-1138. His roommate, who was working at Lucasfilm painting matte paintings, recommended Fincher for a job. Fincher was hired to load cameras on what was then titled Star Wars: Revenge of the Jedi. He worked a bunch of other productions which included Steven Spielberg's Indiana Jones and the Temple of Doom.
"It was great film school," said Fincher. "You could spend $30,000 on film school, then spend another $30,000 on your films. I wanted to work on Star Wars movies."
But he eventually left to do television commercials. However, he quickly found out that no one would hire a young guy like him to direct commercials. Thankfully a thing called MTV came along, and music videos were a thing that he had made all through his high school years. He actually admitted that aside from a couple commercials, he didn't make a narrative film until his first Hollywood feature.
On who he enjoyed working with over his music video career, Fincher said that "the most famous people are usually very good at what they are." Fincher said that with the music videos he always tried to have fun while making them. "They're like making toilet paper, here today gone tomorrow... so lets have fun making em."
He recalls a piece of advice from Joel Schumacher, who early into his feature career told him that he was giving the movie studios too much power. Joel taught him that he should be ready, everyday, to walk off a project, to quit, in order to fight for the vision he believes in.
When he got the script for Se7en, he told Mike Deluca that he needed to work on it some more before going into production. Duluca told Fincher "If we give anyone the time to realize the kind of movie we want to make for $30 million, they won't want to make it." So with that Fincher rushed Se7en into production.
On the controversy behind Fight Club: "I always though of it as ridiculous," Fincher said about the plot of the book. "So I never got what everyone was upset about. But I'm an A**hole," Fincher concluded, who admitted that he was laughing out loud while he read the book the film was based on.
About making movies in San Francisco: "It's too hard to make films in San Francisco. It's like making films in Paris. Paris looks beautiful because film crews didn't have the chance to mess it up." He said that when he made Zodiac, San Francisco wanted him to film in the city, but as is very typical of the city, they weren't willing to accommodate any changes (I think Fincher joked that a SF official said to him "You can't turn that street light out") which lead him back to filming in-front of green screens on a sound stage.
Fincher's favorite San Francisco films include: Vertigo, Bullet and Dirty Hairy, even though Fincher admits that film could have taken place in any city.
When asked about how he usually makes films with multiple layers and long running times, Fincher admitted "I have a problem with keeping things simple."
Talking about Robert Downey Jr.'s recent fame, Fincher said "I think it's great that Marvel comes in and eats Hollywood's lunch." When a friend of his told him the news that Downey had been cast as Iron Man, Fincher said "That's genius."
On working with Robert, Fincher said "There are actors who are worth taking everyone's time and energy from moving on." And Robert is one of them. If he has an idea, you need to get in on film, no matter how many takes.
He first got to read the script for Benjamin Button eight years ago. The screenplay was incredible but it required the audience to have a love and knowledge of Jazz. The project didn't get made for years, and then one day Fincher received a call from his friend Spike Jonze who had good news, he was going to direct Ben Button. "Great! Fuck You!" Fincher said in reply. Jonze apparently quit because he had a specific vision and the studio wanted to go to writer Eric Roth to redraft the script. So Fincher was asked to come in and do a pitch to Paramount, but he refused, even though he wanted the project. The studio went to another director, but that didn't work out. Roth called Fincher and begged him to come into Paramount and do his "tap dance" for the studio. He came in and explained his vision. They wanted test footage, so Fincher produced footage of Ben Button using the aging effects. The studio decided that the film would cost too much money and it fell into development heck That is until Brad Grey took over Paramount and asked "do we have any Brad Pitt projects laying around?" Fincher described the film as about the "dents people make in your life."
They then screened 20 minutes of The Curious Case of Benjamin Button. Most of the people I talked to following the screening were underwhelmed or disappointed. You can read my first impressions of the footage in my previous posting.