Max Makowski To Direct Voltron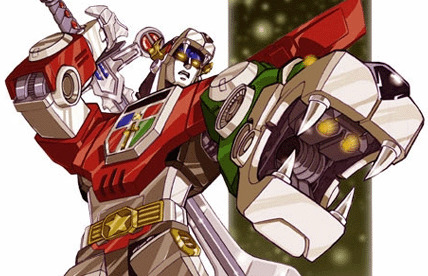 Earlier this month we reported that Relativity had scooped up the gestating Voltron movie from 20th Century Fox (nice move) with plans to make it with a "more moderate budget, utilizing the type of cost-effective technology employed in films including 300." Latino Review (huge Voltron fans) report tonight that Max Makowski, a general unknown, is set to direct the nostalgic robot actioner.
Makowsi is currently attached to direct the revamp of Kung Fu, due in 2009, and he's best known for the 2005 Sundance assassins flick, One Last Dance, co-starring Harvey Keitel. Haven't seen it, neither has LR. IMDB: 6.0. Here's the trailer. Other films he's attached to, in a writing or directing capacity, include Shinobi and Hawaii Five-O.
A while ago, LR memorably referred to the script by the buzzing Justin Marks (Hack/Slash, Street Fighter: Chun Li) as a "fucking masterpiece." I've got it, need to read it. Logline: "a post-apocalyptic tale set in New York City and Mexico which follows five ragtag survivors of an alien attack band together and end up piloting the five lion-shaped robots that combine and form the massive sword-wielding Voltron that helps battle Earth's invaders." I've been pretty amped to see this film for years, and the early word parlays that Makowski's visual acumen will set it apart from Transformers. Playing it loose sans a $100 million budget and with a risky hotshot actually ups my anticipation.
Discuss: Familiar with Makowski? Please chime in below. Voltron fans, what do ya think?
/Film reader, ch, adds: "Saw One Last Dance. Didn't hate it, didn't love it. A definite ode to some its more entertaining Korean action predecessors."