Promo Pilot For Buffy The Animated Series Leaked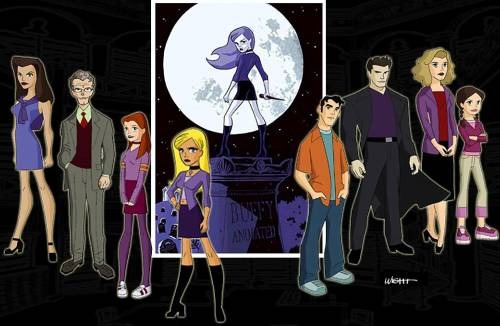 For some time now, the idea of a Buffy the Vampire Slayer animated series has been something that has left Joss Whedon fans salivating with anticipation. According to Wikipedia, we know that Whedon and comic writer Jeph Loeb started working on the series around 2001–but various complications prevented any real development until 2004, when a 3 1/2 minute pilot was produced featuring most of the show's original cast members. The role of Buffy was played by Giselle Loren, best known for voicing the character in the Buffy video games.
The pilot was never picked up, and the project eventually died as Whedon and Loeb moved on to other projects. (Loeb is now a writer and executive producer for Heroes) Fans have been waiting eagerly since then to see this promo, but it never made its way to the Buffy DVDs as many wished. All hope was seemingly lost–that is, until somebody uploaded the pilot to Youtube earlier this month.
As initially reported by Geeks of Doom, the pilot offers a quick glimpse into what Buffy the Animated Series could have been, and honestly, I think it works surprisingly well. Set in the middle of the first season of Buffy the Vampire Slayer, the animated series would have offered a refreshing look back when things were simpler for the Scooby gang. Major characters would still be alive, and the presence of Buffy's supernaturally-born sister Dawn would prove an interesting twist on the show's first-season dynamic.
It's a shame that the animated series was never picked up, but I wouldn't count the series out entirely yet. Whedon's recent online experiment with Dr. Horrible shows that he's looking at new business models for his projects, and I could easily see the Buffy Animated Series working as a series of web shorts, or even just a series of direct-to-DVD films.
View the pilot below: