Buy A Role In Spider-Man 4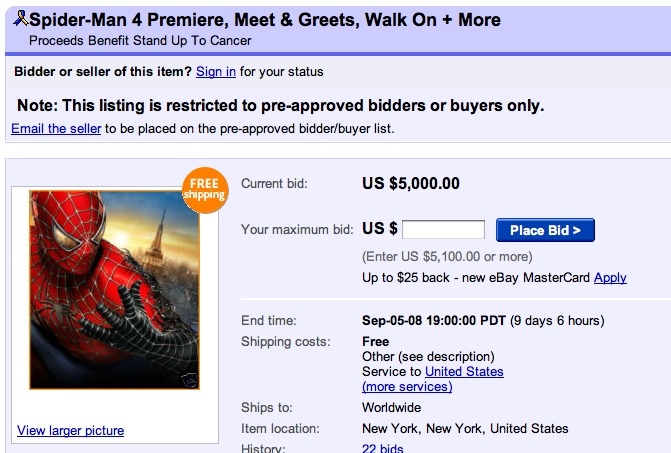 Common sense would have you believe that Sony wouldn't auction off a walk-on role in a movie which hasn't even been given a greenlight... or would they? /Film reader Chuck W sends along word that the studio is doing exactly that.  Sony is auctioning off a visit to the set of Spider-Man 4 (Location of visit will be determined by Sony Pictures based on scheduling of visit) that would include a meet and greet with the cast (this is where I expected the disclaimer "Cast will be determined by Sony Pictures based on who is willing to come back after we finish the script") , a walk-on/extra role in the film, a trip to the New York premiere and more. The proceeds go to the Stand Up To Cancer charity. You can see the ebay auction here.
Let's not kid ourselves. Obviously a fourth Spider-Man film is going to happen, with or without Raimi or any of the original cast, and this is just further confirmation of such. Even so, I do find it hillarious that Sony would put this up for auction when a final screenplay hasn't even been turned into the studio, and no cast and crew have yet to sign on to the project.
Slyly, included in the fine print is "If experience cannot be fulfilled, Sony Pictures will provide alternative set visits/premieres based on the provider's availability". How pissed would you be if you spent tens of thousands of dollars and they changed the film to the Goosebumps movie? The current high bid (as of this writing) is $5,000 and the auction ends on September 5th.