HBO Kills Preacher Television Series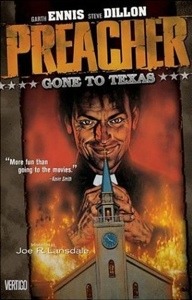 HBO has killed the planned television adaptation of Garth Ennis' popular Vertigo comic series Preacher. Mark Steven Johnson broke the news to ComicsContinuum, claiming that the project got to the budgeting stage before it was axed.

"The new head of HBO felt it was just too dark and too violent and too controversial. Which, of course, is kind of the point," said Johnson. "It was a very faithful adaptation of the first few books, nearly word for word. They offered me the chance to redevelop it but I refused. I've learned my lesson on that front and I won't do it again. So I'm afraid it's dead at HBO."
While this is sad news, I'm kind of glad that Johnson is off the project. After all, this is the same guy who made Ghost Rider and Daredeveil. I'm not sure I would like Johnson's "faithful" adaptation. Johnson has heard that someone else "is in the process of getting the rights to turn it into a feature film."
A film adaptation was once being developed at Kevin Smith's production company – View Askew Productions, with James Marsden attached to play the lead. When the one-hour series was first announced in November 2006, Pretty in Pink director Howard Deutch named to helm the pilot episode. Robert Rodriguez was said to be one of the "many top-shelf directors interested in" helming an episode of the series. So I'm confident that the project will eventually get a green light somewhere.
But a television series seemed like such a great idea. My hope is that following the success of Dexter, that Showtime would make a play for a television adaptation. They certainly aren't afraid of dark material. The only question is, do they have the budget.
The official plot synopsis from the graphic novel follows: "Here's a book guaranteed to offend a bunch of people, not only because of its profuse profanity and graphic violence, but because it's the epitome of iconoclasm. Like a brutal accident, you can't watch but you can't turn away. The story follows an ex-preacher man, Jesse, who has become disgusted with God's abandoning of His responsibilities. So Jesse starts off into the wilds of Texas with his hitman girlfriend and new best friend (a vampire) to find God so that he can give Him a piece of his mind. Despite its superficial perversity, this book contains what may be the most moral character in mainstream comics. A cult hit in the making. Fans of Quentin Tarantino take note."
The 75 issue comic book series was created by writer Garth Ennis and artist Steve Dillon, and published between 1995 to 2000.