Cool Stuff: Dark Knight Alarm Clock With Working Bat-Signal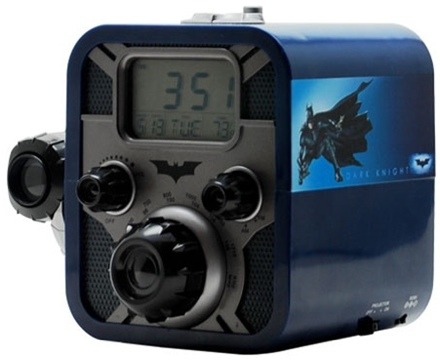 The Dark Knight themed alarm clock lets you project the Bat-Signal onto your wall or ceiling.

Product Specs:

12/24 Hour Mode Display Time
Display Calendar (month,date, day)
Alarm function with 8 different melodies and tones
Adjustable Snooze Timer
24-Hour Countdown Timer
AM/FM Radio Band
Analog Tuning
Telescopic Antenna
180-degree rotation arm for front or back projection
Focus knob to adjust image
Projects Batman logo by pressing the 'Snooze' button (image will fade out) or by the 'On' switch to project a permanent Batman logo
AC Adaptor (included) or 4 AAA Batteries (not included)
Dimensions: 5.5" x 4.9" x 5"
Weight: 0.88lbs
Available for $19.99 on DigitalBlue.com.
Cool Stuff is a daily feature of slashfilm.com. Know of any geekarific creations or cool products which should be featured on Cool Stuff? E-Mail us at orfilms@gmail.com.

via: GeekAlerts