Weekend Box Office: Anna Faris Has Hops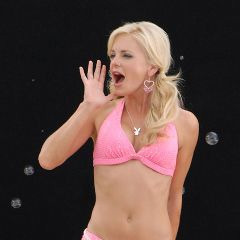 While Peter is on the record questioning Anna Faris's cute-ranking, I have continuously defended her on the site as one of the funniest chicks working in Hollywood. My first ever item for Slashfilm was shot down, even. It was to be an essay on Faris's stoned character in Smiley Face, with a paragraph dedicated to her lime green Sex Wax t-shirt and brilliant application of zit cream. This weekend, Faris finally became a star, and the bandwagon is zooming all over the Internet.The House Bunny, a rather quiet $25 million Happy Madison comedy, surprised at the box office, grossing $15 million this weekend for the runner-up spot behind Tropic Thunder. Sure it's not a massive opening, but taken with her role in the Scary Movie franchise, the industry can't ignore it. The number is being attributed to Faris's popularity and talent, with reviews and journalists demanding she headline a worthier film. On deck this year for the actress is the comedy, Young Americans, from Fubar (!) director Michael Dowse and co-starring Michael Biehn. Not sure about that one, but next year's Observe and Report from Jody Hill and Seth Rogen looks like a sure thing. And hopefully her passion project, the heady Linda Lovelace biopic Inferno, gets the boost it needs.
Elsewhere, the remake of Death Race floundered with $12 million. Jason Statham remains a likeable actor with high star potential that, unlike so many bit torrents, Hollywood hasn't connected with. More on this tonight on the /Filmcast. Thankfully, Crank's fanbase continutes to grow. Ice Cube's The Longshots bombed with $4 million. Director Fred Durst, yadda yadda. TDK is still approaching $500 mill, banking $10 mill. Pineapple Express won't hit $100 mill. Any theories in the comments? Meanwhile, the #1 Tropic Thunder grossed $16 mill, for $65 million total in its second week. Definitely not the monster we thought it would be back in May, but for the sake of appearances, it'll do.
Source: Box Office Mojo