The /Filmcast Interview - Rich Moore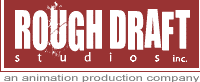 The /Filmcast Interviews are a series of interviews with movie stars, directors, and other key figures from the film industry. In this episode, David speaks with partner and animation director of Rough Draft Studios, Rich Moore, about the history of Futurama, the upcoming Bender's Game, and his next project, Sit Down, Shut Up, with Arrested Development creator Mitch Hurwitz.
Have any questions, comments, or suggestions? Want to be interviewed on the /Filmcast? Feel free to e-mail us at slashfilmcast@gmail.com. You can also call and leave a voicemail at (781) 583-1993. Tune in on Monday night at 10 PM EST / 7 PM PST as we review Death Race with Paul Scheer from Human Giant.
Download or Play Now:
Subscribe: