Ben Affleck Joins Mike Judge's Extract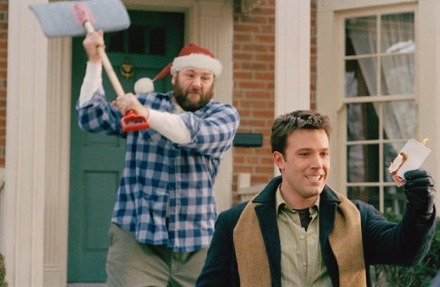 Ben Affleck and Clifton Collins Jr (Traffic, Capote) have been cast in Mike Judge's next live action feature film Extract. Jason Bateman, Mila Kunis and Kristen Wiig have already boarded the project, which has been described as "what it's like to be the boss when everything seems to be shifting around you." Bateman stars as a flower extract factory owner who is suffering a bout of bad luck. Everything is going wrong at work and his wife is having an affair with a gigolo.
And no, Affleck is not playing the gigolo. Collins plays a factory worker who loses a body part in a freak accident, and is now looking fo a financial settlement. Affleck will be playing an ambulance-chasing lawyer, who one must assume will be helping Collins' character with the lawsuit. The project is scheduled to begin production on Monday in Los Angeles.
You probably know Mike Judge as the creator of Beavis and Butthead, King of The Hill and the popular cult work comedy Office Space. Fox basically buried Judges' second feature film Idiocracy, which now appears to be getting a cult following on DVD/tv.
I think a lot of people love Judge's work because he creates comedy that is very relatable, but in a second person sense. Everyone has encountered a Beavis. Everyone knows a family like the Hill family. And everyone has a job, and most people have worked in an office at one point in their life. I think Idiocracy might have been too "cartoonish" for some, even though the concepts at the core of the film speaks a lot about the current direction of humanity. But I have to wonder how many people will relate to a factory owner?
source: Variety