Alex Proyas' The Unpleasant Profession Of Jonathan Hoag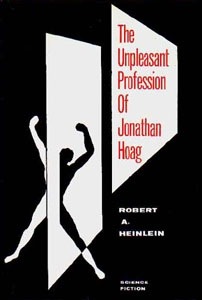 After Knowing, Alex Proyas will begin adapting Robert Heinlein's novela The Unpleasant Profession of Jonathan Hoag. The Dark City director will write and helm the $40 – $50 million psychological thriller for Phoenix Pictures. Heinlein is probably best known to today's moviegoers as the author of Starship Troopers. Originally published in a 1942 edition of Unknown Worlds magazine, the story was later republished in Heinlein's 1959 collection of short stories. Proyas supposedly read the story as a kid.
When Jonathan Hoag realizes that he has no memory of his daytime activities. After discovering a red-brown substance, possibly dried blood, under his fingernails, Hoag decides to hire a private investigator to follow him in order to find out what he does during the day. The story involves a few great sci-fi concepts and offers a potential return to form for Proyas. The tentative plan is to begin production on Hoag in 2010, after Proyas tackles Dracula Year One for Universal.