This Week In DVD: Street Kings, Dexter, House, The Sarah Connor Chronicles, And More
This Week in DVD is a column that compiles all the latest info regarding new DVD releases, sales, and exclusive deals from stores including Target, Best Buy, Circuit City, and Fry's.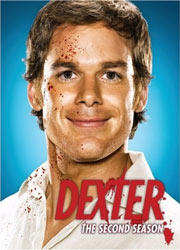 DEXTER (SEASON 2)
Finally. It's here. No more plugging my ears and screaming "La la la la la! I can't hear you!" when people start talking about the latest episode of the show featuring everybody's favorite serial killer (played wonderfully by Michael C. Hall). I told myself I'd just wait for the second season's DVD set, but now I know better than to do the same for season three, because apparently, this is one show people can't just shut the hell up about. Not that I blame them; it's excellent.
Blu-ray? No.
Notable Extras: The Dexter-related extras are practically nonexistent. The DVD set does include, however, two episodes of another Showtime series called The Brotherhood.
EXCLUSIVE DEAL:
What? Exclusive Book
Where? Target
MISS PETTIGREW LIVES FOR A DAY
Just hearing this film referred to as a breezy period romantic comedy is enough to make me want to gag, but there's no denying the positive response this film has gotten, which is apparently due in large part to the winning performances by Amy Adams (Enchanted, Junebug) and Frances McDormand (Fargo). Despite my aversion to these types of films, those two names alone are almost enough to convince me it's worth my time.
Blu-ray? No.
Notable Extras: A director commentary, deleted scenes, and two featurettes (' Miss Pettigrew's Long Trip to Hollywood', 'Making an Unforgettable Day').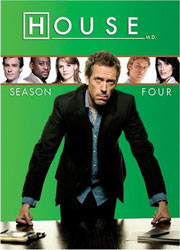 HOUSE, M.D. (SEASON 4)
The Sherlock Holmes of the medical world is back for another season of case-solving goodness, which is a sentence I write without even having seen more than three full episodes. But hey, everyone else seems to like it, so I figure it's worth a mention. I'm certainly a big advocate of Hugh Laurie, who is one of the few actors out there who manages to play characters that become even more likable the bigger the assholes they are.
Blu-ray? No.
Notable Extras: Cast/crew commentaries, 5 featurettes ('New Beginnings', 'Meet the Writers', 'The Visual Effects House', 'Anatomy of a Crash', 'My Favorite Season 4 Episode'), a gag reel, and a sneak peek at season 5.
EXCLUSIVE DEAL:
What? Free $5 Target GiftCard
Where? Target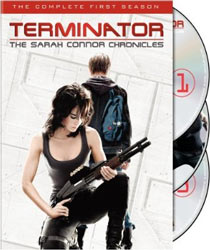 TERMINATOR: THE SARAH CONNOR CHRONICLES (SEASON 1)
Continuing this week's trend of discussing movies/TV shows that everyone else loves and I have zero interest in is the release of the first season of The Sarah Connor Chronicles, which includes only 9 episodes (after being cut short due to the writer's strike, if I'm not mistaken). Maybe my standards for television are too high, because I saw the pilot and laughed my ass off for the first half and then just grew increasingly bored and ancy for it to end during the second. Then the reviews came in and they were all generally positive. What am I missing?
Blu-ray? Yes.
Notable Extras: Commentaries (with the executive producers, cast members Summer Glau and Thomas Dekker, and more), deleted scenes, cast audition tapes (includes: Lena Headey, Thomas Dekker, and Richard T. Jones), storyboard animatics, a Summer Glau Dance Rehearsal, an Extended Director's Cut of Episode: The Demon Hand, and a 'Creating the Chronicles' featurette.
EXCLUSIVE DEAL:
What? Steel Book Packaging
Where? Best Buy

STREET KINGS
(Available as single-disc and 2-Disc w/ Digital Copy)
David Ayer, the writer of The Fast and the Furious, Training Day, Dark Blue, S.W.A.T., and the writer/director of Harsh Times, jumps into the director's chair for a second time with Street Kings, a "gritty" cop crime drama (no way!) starring Keanu Reeves (uh oh...), Forest Whitaker (getting better...), Hugh Laurie (how about that?), Chris Evans (underrated...), as well as Cedric the Entertainer, Common, and The Game (...well, so much for being optimistic).
Blu-ray? Yes.
Notable Extras: A director commentary, 25 deleted/alternate scenes, 10 vignettes, and 2 featurettes ('Street Rules: Rolling with David Ayer and Jaime FitzSimons', 'HBO First Look – City of Fallen Angels: Making Street Kings').
*Does not include 2-Disc w/ Digital Copy, which costs about $22.99.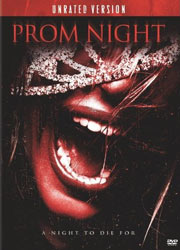 PROM NIGHT
You know this movie is awful. I don't need to tell you that. The 3.7 rating on IMDB doesn't need to tell you that. Not even the 8% ranking on Rotten Tomatoes needs to tell you that. If you want a good laugh though, check out the original '80s Prom Night, which features an incompetent killer disguised as a ninja, a van that explodes in mid air after falling off a cliff, and Jamie Lee Curtis doing her best Saturday Night Fever impression in a hilarious dance-off sequence that goes on for almost ten minutes.
Blu-ray? Yes.
Notable Extras: A commentary (with director Nelson McCormick, Brittany Snow and Johnathon Schaech), deleted scenes (with optional commentary), an alternate ending, 4 featurettes ('A Night to Remember: The Making of Prom Night', 'Profile of a Killer', 'Gothic Spaces: Creating the Pacific Grand Hotel', 'Prom Night Photo Album: Real Prom Stories from the Cast'), and a gag reel.
Other noteworthy DVDs available this week...
The Life Before Her Eyes – Gossip Girl (Season 1) – The Scorpion King 2 – Recount – The Wizard of Gore – Quid Pro Quo – Nixon (Election Year Edition) – Married... with Children (Season 9)
Discuss: What are you planning to rent or buy this week?

NOTE: Some deals may be in-store only.

Exclusive: Gossip Girl ($37.99) – 90-minute Q&A with cast and crew at the Museum of Television and Radio.

$8.99 – Zodiac, Stardust, Flags of our Fathers, Braveheart (Special Collector's Edition), Apocalypse Now, Dreamgirls, Shooter, and more...
$9.99 – Gone Baby Gone, National Treasure, Pirates of the Caribbean: At World's End, and more...
$5.99 – O Brother Where Art Thou?, Invincible, Bridge to Terabithia, and more...

Exclusive: Gossip Girl ($36.99) – Free music sampler.
$6.99 – Hustle & Flow, Harry Potter and the Goblet of Fire, Anchorman, Mean Girls, Forrest Gump, The Greatest Game Ever Played, Jackass (Special Edition), Jackass Number Two, and more...
3 for $18 – Labyrinth, Stand By Me, Snatch, Click, Desperado, A Knight's Tale, Cruel Intentions, Something's Gotta Give, The Mask of Zorro, and more...

$4.99 – The Hills Have Eyes (Unrated), Speed, Alien, Aliens, AVP, M.A.S.H., and more...
$5.99 – Big, Drumline, Predator 2, Tora! Tora! Tora!, and more...