The Dark Knight Beats Star Wars: Clone Wars And A New Hope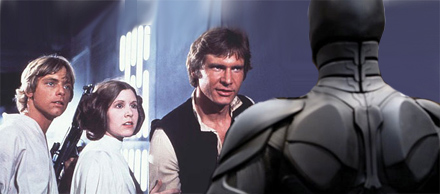 As expected, The Dark Knight was dethroned at the Box Office this weekend, after five weeks on top. Tropic Thunder won the weekend with an estimated $26 million ($37 million 5-day total). But here is where the unexpected thing happened – The Dark Knight beat Star Wars: The Clone Wars, which was projected to take the #2 spot on the weekend charts. The latest Star Wars film only made $15.5 million over the three days, a million or two less than The Dark Knight. And what's worse is, Steve Mason is saying that the animated adventure might not even reach $40 million domestically. This is the first big Star Wars theatrical failure. And by failure, I mean it was still profitable. With anything Star Wars, it's hard to lost money after merchandising, dvd and tv sales. But it will definitely be considered a failure within the Industry.

But not only did The Clone Wars fall to the Cape Crusader, but also the original Lucas sci-fi film Star Wars: Episode IV – A New Hope. The film overtook Jaws to become the highest grossing film of all time. Then E.T. came and knocked the movie off the top spot. Jurassic Park and Forrest Gump knocked the film further down the all-time list to #4. But in 1997, Lucas rereleased the movie as part of the Special Edition trilogy release, which put A New Hope back on top of the list. But not for long, Titanic came later that year and knocked Star Wars back to the #2 slot, where it has remained until now. That's right, The Dark Knight has just overtaken Star Wars to become the second highest grossing film of all time (domestically). Of course, this doesn't take inflation into account.

The Dark Knight will end the weekend with an estimated $16.8 million, bring the film's domestic total to $471.5 million. Analysts project The Dark Knight to finish around $525 million, about $75 million short of Titanic's record. And Star Wars fanboys shouldn't worry too much. When George Lucas eventually releases the original Star Wars trilogy in 3D, A New Hope will probably be back on top once again.