Samm Levine To Star In Inglorious Bastards! German Critics Bickering About Depiction? Ha.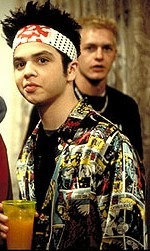 UPDATE: Simon Pegg has dropped out of Inglorious Bastards due to "scheduling difficulties," per the brief explanation on his MySpace.
OMG, Neal Schweiber is going to fight the Führer! Actor, Samm Levine, forever a babyface and best known for his role on Freaks and Geeks, is set to star as a Nazi-slaying U.S. soldier in Quentin Tarantino's Inglorious Bastards. The casting news was confirmed by AICN. His role was not specified. However, the site also reported that David Krumholtz, who played Samm's older bro on Freaks, will not be in the film as rumored.
Levine's casting continues QT's comedy-skewing trend for his WWII blow-out, following Michael Myers's bit part as a British general, Simon Pegg as a Bastard, The Office's B.J. Novak as a Bastard, and the oft-cornball, Eli Roth, as the Bear Jew. Brad Pitt will lead this formidable gang on a mission to "git 100 Nazi scalps" and face off against the Jew Hunter, a part that is still available for a German actor.
Meanwhile, The Guardian reports that German critics are getting into a fuss about the leaked script's depiction of all Germans as evil people who need to be crushed. Apparently, the lack of a distinction between Nazi soldiers and regular German ones causes concern. Blah blah. We'll let the Bear Jew decide. Also, Tarantino is said to have met with German actors Daniel Brühl (age 30, The Bourne Ultimatum) and Til Schweiger (age 45, Bye Bye Harry). Inglorious Bastards begins shooting near Berlin this October.
Discuss: Will Neal bring his dummy to battle? For our German readers who have read the script, do these critics have a point?