Cool Stuff: Vulcan Death Grip T-Shirt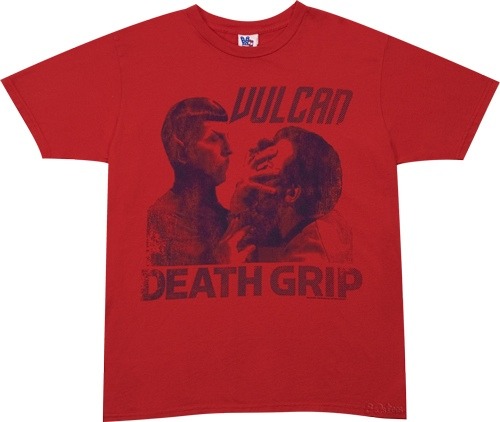 Junk Food has a new line of retro Star Trek t-shirts. My favorite is this Vulcan Death Grip tee which features Spock using the move on Captain Kirk.

Accoridng to Wikipedia,the Vulcan Death Grip was mentioned in an episode titled "The Enterprise Incident" where Spock pretends to use it on Captain Kirk in order to complete a mission. Nurse Christine Chapel later asserts that the death grip is a myth (giving the famous line "there's no such thing as a Vulcan Death Grip!"), later confirmed by Kirk still being alive. Spock does, however, do something to Kirk that simulates death to such a degree that Romulan doctors certified him dead. Kirk later states that Spock used a nerve pinch to simulate his death, but what Spock exactly does is not explained.

Available in sizes ranging from Small to XXXL for $28 on 80sTees.com.
Cool Stuff is a daily feature of slashfilm.com. Know of any geekarific creations or cool products which should be featured on Cool Stuff? E-Mail us at orfilms@gmail.com.