/Filmcast #3 On iTunes; Mentioned On The Totally Rad Show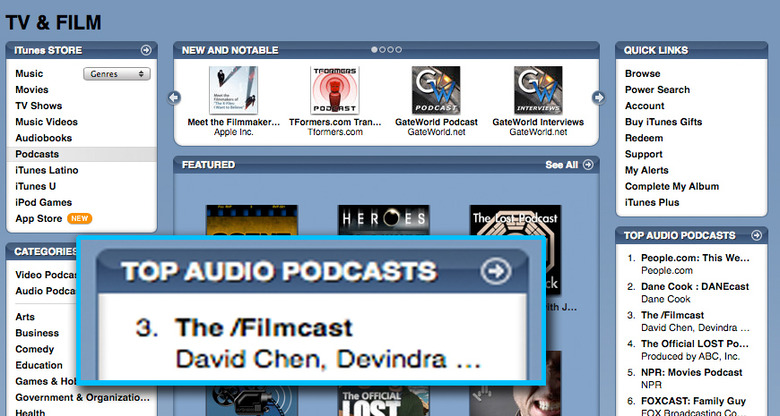 The /Filmcast hit the #3 spot of Apple iTunes' TV & Film Audio Podcasts today. Dane Cook, watch out -we're gonna take you down! And by we, I mean the guys who sit and talk about movies for 5 hours every Monday night – David Chen, Devindra Hardawar and Adam Quigley. Congrads to the whole /Film podcast crew. If you haven't already:
Please subscribe to the /Filmcast on iTunes!

I also want to send thanks to Dan Trachtenberg and the other guys at the Totally Rad Show for saying such great things about /Film and the podcast on their latest episode (which might have something to do with our #3 placement). Dan appeared on the last episode of /Filmcast (you can listen to that show here). Alex Albrecht (also of Diggnation fame) called us "/awesome" and Jeff Cannata admitted that he was also a big /film fan.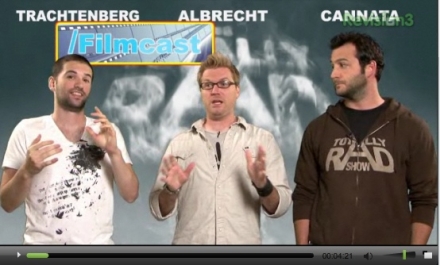 I met the trio at E3 last month (and by met, I mean totally assaulted them like a fanboy). /Film puts me in the unique position to meet and talk to a lot of directors, actors, and writers. But the excitement of interviewing The Rock has long worn off, and I've found the people I am excited to meet is probably very strange to most people. That said, when I talked to the TRS guys at E3, you would have thought I was speaking with Scorsese himself. I've been watching their show since the first episode, and before that I was an avid listener of Dan's previous podcast Greekdrome (which preceded TRS).
Anyways, if you haven't seen The Totally Rad Show, I highly recommend that you check it out. It's the best video podcast on the interwebs.