Kiefer Sutherland Talks Lost Boys Prequel, Tells The Tribe To FO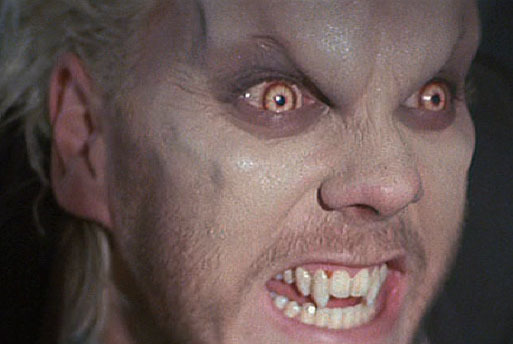 With the risk of sounding like a broken record, Slashfilm feels that Lost Boys: The Tribe was a lost cause. Even some of the people who worked and starred in the direct-to-DVD afterthought seem to agree. But it leaves open the question: do you reverse the damage done and attempt a real sequel—as rumored—or do you let the original speak for itself? From the sound of this new interview, Kiefer Sutherland still isn't against the idea of revisiting Santa Carla.
"Lost Boys was a massive part of my life, it still is," Sutherland told Shock Til You Drop. "You can't crap on that. And I'm not going to go out and do a cameo in a DVD release sequel. Why they never talked to Joel Schumacher in the past 15 years about doing a proper sequel... If you're not going to embrace what you're coming from in its original state...look, it was hard enough for me to do Young Guns 2 which I ended up thinking – because we were all better – was a better film."
I recently examined how the entertaining Reign of Frogs comic books resurrected his David character, but Sutherland brought up a once proposed sequel idea—actually, a prequel—that we've never heard before. And what's cool about it is that it could theoretically still work today. Sutherland says Joel Schumacher suggested a film focusing on David as a mortal, before he turned into an evergreen vampire. A major plot point would have been the earthquake that birthed the vampire clan's cavern/Jim Morrison shrine. Chalk it up to trivia like The Lost Girls idea, but if Warner Bros. ever wanted to fund the type of worthy sequel fans crave, Sutherland, who's revisiting the horror genre in Mirrors, probably would be interested.
Discuss: What do you think of the prequel idea? Do you think a better Lost Boys sequel will ever happen based on the anger at The Tribe?