Conan Being Fast-Tracked, R-Rated. New Script From Outlander Guys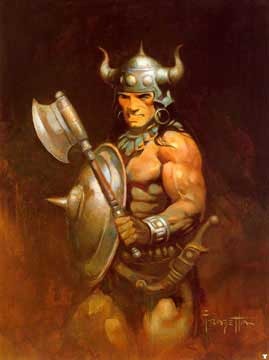 Rumblings of a new Conan movie have been ongoing for two years now, and today Lionsgate announced a fresh pair of screenwriters for its $100 million, R-rated tent pole. Dirk Blackman and Howard McCain will rework the former script. The duo previously wrote Outlander, the vikings-versus-alien movie currently growing moss over at The Weinstein Co. In recent months, Outlander has earned a fair number of supporters, Slashfilm included. AICN even wrote a letter to Harvey Weinstein praising the film and pleading for a wide release. From our standpoint, their involvement in this franchise has potential. Here's what producer Fredrick Malmberg told the trades...
"We all want this movie to go into production as soon as possible," Malmberg said. "It's a fast-tracked movie. Lionsgate felt the process was enhanced by having a second team come in and do a script."
The prior screenwriting team he's referring to? Back in January we reported that Thomas Dean Donnelly and Joshua Oppenheimer (Sahara, The Sound of Thunder) were hired as Conan scribes.
Malmberg makes the requisite comparison to The Dark Knight, calling the barbarian a "dark hero" and a "badass," and stating the importance of keeping faithful to the source material. No director is attached. In the past, Robert Rodriguez, Rob Zombie and Neil Marshall have been mentioned for the job.  
Discuss: How do you feel about the writers of Outlander for a $100 million, R-rated Conan movie?