John Hughes Movie To Become ABC TV Series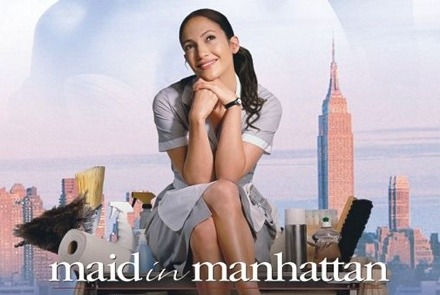 Okay, the headline is just a little misleading. I just didn't want to lead with "ABC and Jennifer Lopez are in negotiations to create a television series based on the 2002 romantic comedy Maid in Manhattan", because, who is going to read a story about that?
But yes, 80's teen film legend John Hughes did in fact write the story (originally titled The Chambermaid) which became the basis for Maid in Manhattan. Hughes dropped out of filmmaking in 1991, but continued to do some work for hire script work under the pseudonym Edmond Dantes (a reference to the main character in Alexandre Dumas' novel The Count of Monte Cristo). So the story credit on Maid in Manhattan for Dantes is actually Hughes. Anyways, Maid raked in the cash despite poor reviews from both critics and mainstream audiences (41% on Rotten Tomatoes, 4.5 out of 10 on IMDb).

The film told the story of a struggling single mother who works as a maid at a expensive Manhattan hotel, where a politician falls in love with her after mistaking her for a wealthy socialite. The television show will not be a remake of that story, but will feature "a different maid in a different Manhattan." Yup, sounds like a remake to me. Apparently the main difference is that the series will focus on the relationships the young latino maid has with her co-workers. Yawn.