/Filmcast Ep. 12: Pineapple Express (GUEST: Dan Trachtenberg)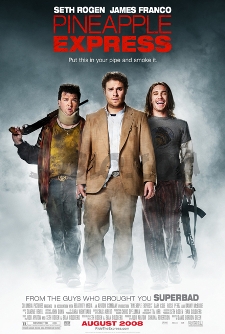 In this episode of the /Filmcast, Dave, Devindra, Adam, Peter, and Hunter Stephenson weigh in on the Tropic Thunder controversy, defend Shia Lebeouf, and re-enact a scene from one of Hollywood's hottest scripts. Special guest Dan Trachtenberg joins us from the Totally Rad Show. Have any questions, comments, or suggestions? Want to sponsor or advertise with the /Filmcast? Feel free to e-mail us at slashfilmcast@gmail.com. You can also reach our voicemail number at 781-583-1993. Join us next week as we broadcast the /Filmcast live on TUESDAY night (NOT Monday) at 10 PM EST / 7 PM PST and review Tropic Thunder.
Download or Play Now:
Subscribe:
Show Notes
Introduction
What Have We Watched
David Chen: (5:18) Olympics, Eternal Sunshine, Groundhog Day
Devindra: (9:48) Slither, Reprise, The Wackness
Dan Trachtenberg: (13:50) P.T. Anderson's play, Sugarland Express
Peter Sciretta: (20:15) The Wire
Adam: (25:03) Finishing the Game, Rogue, Mad Men/Six Feet Under/The Sopranos/The Shield/The Wire [Shit Movie of the Week:] Natasha
Film News
(48:54) Shia Gets Injured
(55:08) Lethal Weapon 5?
(1:02:38) A Special Re-Enactment
(1:08:22) Remembering Bernie Mac and Isaac Hayes
Featured Review
(1:12:02) Pineapple Express
Credits
Our music comes from Point 22 courtesy of the Podsafe Network, and Brad Sucks
If you'd like advertise with us or sponsor us, please e-mail slashfilmcast@gmail.com.
Contact us at our new voicemail number: 781-583-1993