B.J. Novak Cast In Tarantino's Inglorious Bastards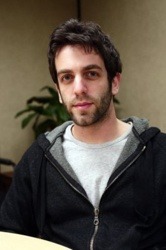 It looks like we might be in the full swing of the line-up reveal of Quentin Tarantino's Inglorious Bastards. Yesterday it was revealed that friend and horror director Eli Roth was in talks to play Sgt. Donnie Donowitz. And tonight is was released in the trades that The Office star B.J. Novak is in talks to play PFC Utivich, a New York-born soldier of "slight build". I'm guessing that we will continue to get announcements on a daily basis leading into next week.
The film is expected to begin principal photography this Fall in Europe. Tarantino has publicly expressed interest in having the film ready for Cannes in May 2009, but that might be cutting things a bit close.
I havent gotten a chance to watch The Office (I know.. I know...), so I have no real observation or opinion on BJ's casting, other than to say that it seems a bit unexpected. So I leave the question to you the /Film readers – What do you think about B.J. Novak cast in a Quentin Tarantino film?