This Week In DVD: The Counterfeiters, Nim's Island, Starship Troopers 3, And More
This Week in DVD is a column that compiles all the latest info regarding new DVD releases, sales, and exclusive deals from stores including Target, Best Buy, Circuit City, and Fry's.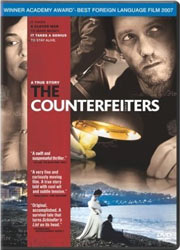 THE COUNTERFEITERS
Winner of the Academy Award for Best Foreign Language Film, this movie tells the true story of the largest counterfeiting operation in history, which employed the use of Jewish men imprisoned in concentration camps to help fund the Nazi War effort. With a 94% ranking on Rotten Tomatoes and a 7.7 rating on IMDB, The Counterfeiters has been widely praised for its gripping exploration of survival and the lengths people will go in order to retain it, as well as the effects the moral dilemma has on one particular prisoner.
Blu-ray? Yes.Notable Extras: Director's commentary, deleted scenes, an interview with real-life counterfeiter Adolf Burger, 2 featurettes (Making of The Counterfeiters, Adolf Burger's Artifacts), and rehearsal footage.
BEST PRICE
Target
Best Buy
Circuit City
Fry's
N/A
$19.99
$19.99
$18.99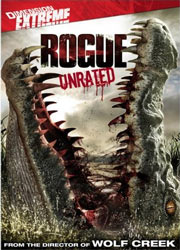 ROGUE
At first glance, Rogue would appear to be nothing more than a Sci-Fi Channel-quality B-movie about a killer crocodile (where have we seen that plotline used before?), which is probably why the film was shafted so badly when it came time for a U.S. release. But according to the critics and audiences that have seen it, this schlocky horror flick from the writer/director of Wolf Creek is a surprisingly competent excursion in suspense, complete with top-notch special effects, great cinematography, and acting/dialogue that doesn't make you embarrassed for the actors.
Blu-ray? No.Notable Extras: Writer/director commentary, a making-of documentary, mini-documentaries, and a featurette (The Real Rogue).
BEST PRICE
Target
Best Buy
Circuit City
Fry's
$19.99
$17.99
$19.99
N/A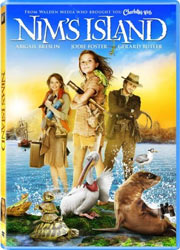 NIM'S ISLAND
If you're under 12 years old and love animals, Nim's Island might just be your new favorite movie. If you don't fit into that demographic, however, then I shouldn't even have to tell you not to waste your time. And you may want to think twice before you let the presence of Jodie Foster and Gerard Butler convince you otherwise.
Blu-ray? Yes.Notable Extras: A commentary with Jodie Foster and Abigail Breslin, a commentary with directors Mark Levin and Jennifer Flackett, 3 featurettes (Nim's Friends, Abigail's Journey, Working on Water), and deleted scenes.
BEST PRICE
Target
Best Buy
Circuit City
Fry's
$16.99
$15.99
EXCLUSIVE DEAL:What? Free "Amazing Animal Facts" book.Where? TargetEXCLUSIVE DEAL:What? Free "Nim at Sea" book on-pack.Where? Best BuyEXCLUSIVE DEAL:What? Free postcard & sticker set – customize the postcard's with stickers of Nim's animal pals.Where? Circuit City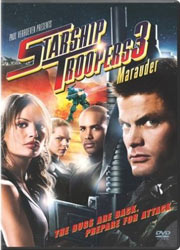 STARSHIP TROOPERS 3: MARAUDER
Serving strictly as an answer to the question, "Just what the hell happened to Casper Van Dien's career?" Starship Troopers 3 is the second utterly worthless straight-to-DVD sequel to Paul Verhoeven's hilarious and action-packed original. This one doesn't hit the lows that the first sequel did, but the satire elements, acting, dialogue, and most of all the CGI are so piss-poor, there's really no reason to even bother with it.
Blu-ray? Yes.Notable Extras: A filmmaker commentary, a director/cast commentary, and 2 featurettes (Evolution: The Bugs of Starship Troopers 3: Marauder, Enlist: Marauder's Mobile Infantry).
BEST PRICE
Target
Best Buy
Circuit City
Fry's
$16.99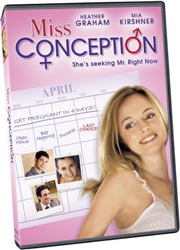 MISS CONCEPTION
Heather Graham's charming performance isn't enough to save this cloying, painfully unfunny sitcom of a movie, the plot of which revolves around a woman who finds out she only has one month left in which she can conceive a child. Don't be surprised if you've never heard of it; the film was only released in 3 theaters. (For good reason, too.)
Blu-ray? No.Notable Extras: A behind-the-scenes featurette.
BEST PRICE
Target
Best Buy
Circuit City
Fry's
N/A
$19.99
$19.99
$18.99
Other noteworthy DVDs available this week...
Starship Troopers Trilogy – Get Smart (Season 1) – Star Trek: The Original Series (Season 2) (Remastered) – He-Man and the Masters of the Universe (Vol. 3)
Discuss: What are you planning to rent or buy this week?

NOTE: Some deals may be in-store only.

Exclusive: 3D keychain with purchase of He-Man and the Masters of the Universe (Vol. 3) ($16.99).$5 – A Knight's Tale, Crouching Tiger Hidden Dragon, The Karate Kid (Special Edition), and more...$10 – Meet the Parents & Meet the Fockers (The Circle of Trust Collection), Rounders & Swingers (2-Movie Collection), Casino Royale (2-Disc Edition), Balls of Fury, and more...

Exclusive: Free Marauder action figurine when you buy the Starship Troopers Trilogy ($39.99).$3.99 – Snatch, Inside Man, Spaceballs, I Robot, Independence Day, X-Men, X2, True Lies, The Thomas Crown Affair, Layer Cake, Black Hawk Down, Accepted, The Break-Up, Falling Down, Unleashed, Bruce Almighty, Lucky You, Enter the Dragon (Special Edition), Cinderella Man, The Replacements, Lady in the Water, and more...$6.99 – I'm Not There, Grindhouse: Planet Terror, Grindhouse: Death Proof, Disturbia, 1408, Halloween (Unrated Director's Cut) (2007), War, Crank, Talladega Nights, Hostel: Part II (Unrated), Revolver, Rocky Balboa, Ghost Rider, Stranger than Fiction, Casino Royale (2-Disc Edition), Family Guy Presents: Stewie Griffin: The Untold Story, and more...$9.99 – Rambo, Transformers, The Simpsons Movie, The Kingdom, Lions for Lambs, The Darjeeling Limited, Live Free or Die Hard, The Mist, Across the Universe, Superbad (2-Disc Unrated Extended Edition), Walk Hard, We Own the Night, Knocked Up, 30 Days of Night, Serenity, and more...

$4.99 – Platoon (Special Edition), Man on Fire, Raging Bull, Ong-Bak: The Thai Warrior, Die Hard 2, Legally Blonde, Edward Scissorhands, Catch Me If You Can, Monster, Panic Room, Night of the Living Dead, The Princess Bride (20th Anniversary Edition), American Beauty, Master and Commander, and more...$6.99 – The Goonies, Fast Times at Ridgemont High, A Few Good Men, Top Gun, Stripes, Major League, Ferris Bueller's Day Off, Planes Trains and Automobiles, Footloose, Witness, Stand By Me, Meatballs, The Karate Kid (Special Edition), Field of Dreams, Airplane, Better Off Dead, Caddyshack, and more...$12.99 – Arrested Development (Season 3)$14.99 – South Park (Seasons 1-4), CSI (Season 1)$16.99 – Curb Your Enthusiasm (Seasons 1-5), Family Guy (Volumes 3-5), Oz (Seasons 1-6), Everybody Loves Raymond (Seasons 1-9)$19.99 – Battlestar Galactica (Seasons 1-2.5), The Office (Seasons 2-3), 30 Rock (Season 1), Gilmore Girls (Seasons 1-7)$24.99 – 24 (Seasons 1-6), House (Seasons 1-3), The Shield (Seasons 1-5)$27.99 – Lost (Season 3), Desperate Housewives (Season 3)$34.99 – The Wire (Seasons 1-4)

$2.99 – Miller's Crossing, Big Trouble in Little China, Kung Pow, Hoffa, Enemy Mine$5.99 – The Last King of Scotland, Predator, Predator 2, Alien, Drumline$4.99 – 28 Days Later, My Cousin Vinny, Porky's (The One-Size-Fits-All Edition), Fantastic 4, Die Hard, Die Hard 2, From Hell, History of the World: Part I, Ong-Bak: The Thai Warrior, The Rocky Horror Picture Show