The /Filmcast: After Dark - Ep. 10 (GUESTS: GreatWhiteSnark, Dave3)


The /Filmcast: After Dark is a recording of what happens right after The /Filmcast is over, when the kids have gone to bed and the guys feel free to speak whatever is on their minds. In other words, it's the leftover and disorganized ramblings, mindfarts, and brain diarrhea from The /Filmcast, all in one convenient audio file. In this episode, David, Devindra, Adam, along with guests Mike Sonders from Great White Snark and Dave3 from Geeks of Doom, share some more remembrances of Comic Con, discuss the breakdown of Roger Ebert, and debate whether older directors have lost their groove. Please note: The viewpoints of Great White Snark do not reflect those of Slashfilm, its affiliates, or subsidiaries.
Have any questions/comments/suggestions? Want to advertise your movie/product/service with the /Filmcast? E-mail us at slashfilmcast@gmail.com or reach the /Filmcast voicemail at 781-583-1993. Join us for our next broadcast, live on Monday night at 10 PM EST / 7 PM PST as we review The Mummy: Tomb of the Dragon Emperor with Stephen Tobolowsky (an actor who has starred in over 150 films and TV shows, including Stephen Tobolowsky's Birthday Party, Heroes, and Groundhog's Day).
Download or Play Now:
Subscribe:
Topics Discussed
Your voicemails (Call us at 781-583-1993) and e-mails
What the heck is up with Roger Ebert?
Remembering Comic-Con
Tron 2 Trailer
The trouble with Comic-Con
Favorite costumes
Darren Aronofsky's Robocop rated R!
Also, here is GreatWhiteSnark's picture of Zombie Hulk: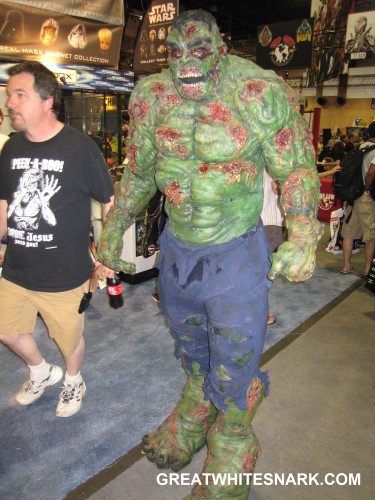 For more, check out Mike's Comic Con costume gallery.