I Am Prequel?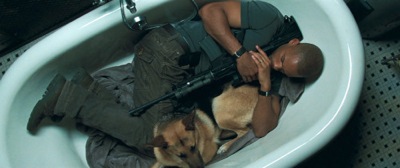 During Comic Con, filmmaker Francis Lawrence revealed to Shock Till You Drop that he is thinking of making a prequel to the Will Smith sci-fi thriller I Am Legend.
"Yes, yes, absolutely, we're actually trying to crack that, Francis told Shock. "We're trying to figure out some ideas for it."
The original film has made over $580 million worldwide, and who knows how much on home video. Even Smith's recent critically slammed Superhero comedy Hancock went on to gross over $380 million worldwide. And Lawrence believes that Smith would reprise his role of Dr. Robert Neville for the prequel, which would pretty much guarantee a green light. I mean, if you ran Warner Bros, would you say no to guaranteed money?
But the real question is, would an I Am Legend prequel have a story that is worth telling. I thought Legend was one half a great movie, and one half a bad movie. The elements I liked involved Smith alone in a post apocalyptic New York. The parts I hated were the more scientific elements of the plot and the entire third act. It seems to me that a prequel would be more of the latter, but who knows... The first film focused on a character who had already figured everything out, knew to stay indoors before dark and was hardened by the whole experience. It might be interesting to watch the moment where everything went wrong, and see how Smith's character had to adapt to the changes, and the mistakes he made along the way.