The Dark Knight To Cross $300+ Milllion By Monday! Would Make TDK 2008's Top Movie In 10 Days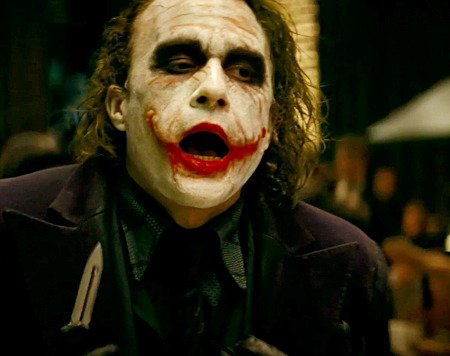 Watch out Billy Zane! Fantasy Moguls reports that The Dark Knight is on track to gross $77 million this weekend—only a 50% drop from last weekend, the largest opening on record. If so, the film will have grossed $315 million by Monday, surpassing the total domestic grosses of both Iron Man and Lame Indiana Jones Sequel to become 2008's toppity top movie in a mere 10 days. Indeed: that's another record. Repeat viewings are holding steady. On IMDB, TDK remains the number one movie of all time after 125,000 votes by users. Surely including W's?
In other news, Will Ferrell doesn't have to grow up and clean out his belly button. Step Brothers, the R-rated Judd Apatow production co-starring John C. Reilly from The Tim and Eric Awesome Show, is likely to gross $30+ million this weekend. After watching The Joker blow out windows in the good name of anarchy, summer moviegoers will lap up some beer and coast out on a strong line-up of dirty comedies, continuing with Tropic Thunder and Pineapple Express. And less than $15 million worth of Americans care to see Mulder and Scully suck face and trek through snow alongside Xzibit. X FIles I Want to Believe is a mothball/bomb, and yes, we know that its budget was $30 million.