Sacha Baron Cohen To Produce Accidentes, Possibly Star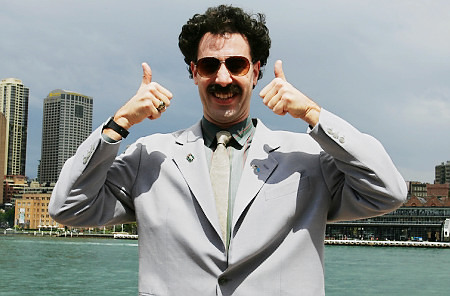 Cultural humor alert: Sacha Baron Cohen will produce and possibly star in a film for Fox Atomic entitled, Accidentes, a pitch from Borat co-writer Peter Baynham. Here's the logline:
"The protag will be a lawyer of Latin descent who transforms from contingency attorney to hero of the working class when he helps an immigrant win a judgment against his wealthy employer after a landscaping mishap. He also becomes the enemy of L.A.'s power elite."
Might this do for L.A. what Borat did for Kazakhstan, Jean Girard did for France and Bruno did for "high fashion"? Do you see a pattern? The project is a high profile catch for Fox Atomic, which has been off our radar in recent months. A director was not announced. Cohen is also attached to star as Sherlock Holmes alongside Will Ferrell's Watson for producer Judd Apatow. Bruno, which is now a wrap, opens May '09.
Discuss: Thoughts?
via Trades