This Week In DVD: 21, Spaced, Robot Chicken: Star Wars, And More
This Week in DVD is a column that compiles all the latest info regarding new DVD releases, sales, and exclusive deals from stores including Target, Best Buy, Circuit City, and Fry's.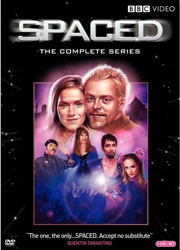 SPACED (THE COMPLETE SERIES)
Finally being made available in the US, the 14-episode long UK sitcom Spaced proves what hilarious characters and writing can do with even the simplest of premises. The show comes from the minds of the hilarious star-director duo Simon Pegg and Edgar Wright (and let's not forget Nick Frost, who has a supporting role here), who later went on to make the instant classic hits Shaun of the Dead and Hot Fuzz. If that isn't enough to convince you this is a must buy, you must not have seen those films.
Blu-ray? No.Notable Extras: New audio commentary By Quentin Tarantino, Kevin Smith, Bill Hader, Matt Stone, Patton Oswalt and Diablo Cody, the original commentaries included on the VCI release, deleted scenes, raw footage, a Spaced On Stage reunion Q&A, a feature length documentary, outtakes, and a Homage-O-Meter.
BEST PRICE
Target
Best Buy
Circuit City
Fry's
$34.99
$39.99
$59.98
$44.99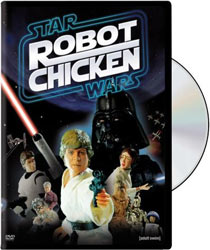 ROBOT CHICKEN: STAR WARS
Beating out Family Guy's Star Wars special (entitled "Blue Harvest") to the punch by a few months, Robot Chicken's special is just now getting the treatment it deserves. Some people may not find much incentive to pick this set up, being that it's only one 23-minute episode and you can already watch it online for free at AdultSwim.com. More diehard fans of Robot Chicken/Star Wars, however, will find justification for the splurge courtesy of the extensive amount of special features and the very low price.
Blu-ray? No.Notable Extras: Seven audio commentaries, video commentary, an animation meeting, a behind the scenes featurette, a production design featurette, deleted scenes, a panel presentation, time lapse sequences, alternate audio recordings, and on-air bumps.
BEST PRICE
Target
Best Buy
Circuit City
Fry's
$8.99
$9.99
$8.99
$7.99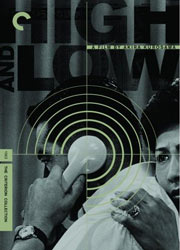 HIGH AND LOW (CRITERION COLLECTION)
From Japanese director Akira Kurosawa, this two-act 1963 police procedural (based on a detective novel by Ed McBain) insightfully explores and comments on Japanese society through the tale of a wealthy industrialist who learns his son has been kidnapped. High and Low may not be one of Kurosawa's most popular works, but quality-wise it's definitely up there.
Blu-ray? No.Notable Extras: An audio commentary by Kurosawa scholar Stephen Prince, a retrospective documentary with Akira Kurosawa, two interviews, a trailer gallery, and a booklet featuring an essay by critic Geoffrey O'Brien and an on-set account by Japanese film scholar Donald Richie.
BEST PRICE
Target
Best Buy
Circuit City
Fry's
$27.99
$34.99
$34.99
$29.99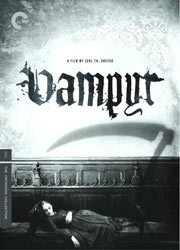 VAMPYR (CRITERION COLLECTION)
An excellent movie for art-lovers and those interested in filmmaking, Vampyr is a 1932 French-German picture that tells a nightmarish tale about a young student of the occult who visits a strange castle and starts to experience haunting dreams and supernatural visions. It doesn't have much dialogue or plot, but is heavily admired for its innovative use of light and shadows.
Blu-ray? No.Notable Extras: An audio commentary by film historian Tony Rayns, a documentary about the director's life and work, a 'visual essay' featurette, a 46-page booklet which features essays about the film and director Carl Theodor Dreyer, and a 200+ page book which features Dreyer's script and the story Carmilla.
BEST PRICE
Target
Best Buy
Circuit City
Fry's
$27.99
$34.99
$34.99
$29.99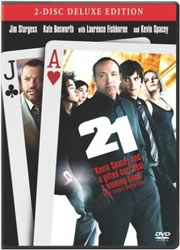 21(Available as single-disc and 2-Disc Deluxe Editions)
While not exactly terrible, the wholly generic Hollywood fluff flick 21 falls flat due to its incessant need to remove anything that could've made the film even remotely original or interesting. This includes, among other things, getting rid of the important cultural aspects from the true story on which the film is inspired (they were primarily Asian males), focusing far too much energy on making everything look flashy and cool instead of actually informing the audience what it is that's happening on the blackjack table (I still have no idea what the hell counting cards entails), and spending so little time developing the lead character's transformation that it barely even registers as an arc (there goes any hope for a compelling character study). In the end, the only thing that resonates in the slightest is the kickass soundtrack.
Blu-ray? Yes.Notable Extras: A filmmaker commentary and 3 featurettes. In addition, the 2-disc set includes a digital copy of the film.
BEST PRICE*
Target
Best Buy
Circuit City
Fry's
$16.99
$15.99
*Does not include 2-Disc Edition, which costs $22.99 at each of the listed stores.
EXCLUSIVE DEAL:What? Deluxe Edition includes The Basics of Winning Blackjack book.Where? TargetEXCLUSIVE DEAL:What? Deck of 21-themed cards.Where? Best BuyOther noteworthy DVDs available this week...
Picture This! – The Last Winter – Bird (2-Disc Special Edition) – L.A. Ink (Season 1) – Las Vegas (Season 5) – Masters of Horror (Season 2 Box Set) – Kiss of the Spider Woman (2-Disc Collector's Edition) [Amazon.com Exclusive]
Discuss: What are you planning to rent or buy this week?

NOTE: Some deals may be in-store only.

Exclusive: Free E-Movie Cash (up to $7.50) to see The Mummy: Tomb of the Dragon Emperor, plus a Sneak Peek disc, with any of the following $5.99 DVDs.$5.99 – Miami Vice, Children of Men, The Scorpion King, Serenity, Alpha Dog, Lock Stock and Two Smoking Barrels (Unrated Director's Cut), Tremors, Land of the Dead, Cape Fear, Billy Madison, and more...$14.99 – Robot Chicken (Season 1-2), Aqua Teen Hunger Force (Season 1-4), The Venture Bros. (Season 1-2), Metalocalypse (Season 1)$19.99 – Dexter (Season 1), The Tudors (Season 1)$24.99 – Jericho (Season 1), The L Word (Season 3-4)$27.99 – Lost (Season 3), Dirt (Season 1), Desperate Housewives (Season 3)$5.99 – Rounders, Swingers, Gangs of New York, Equilibrium, Good Will Hunting, Jay and Silent Bob Strike Back, Grosse Point Blank, From Dusk Till Dawn, and more...

Exclusive: Free movie money (up to $7.50) to see The Mummy: Tomb of the Dragon Emperor with any of the following $9.99 and $6.99 DVDs.$9.99 – The Mummy (2-Disc Deluxe Edition), The Mummy Returns (2-Disc Deluxe Edition), Fearless (Director's Cut)$6.99 – Miami Vice, Smokin' Aces, Children of Men, The Fast and the Furious: Tokyo Drift, and more...$4.99 – The Island, The Warriors (Ultimate Director's Cut), Lucky Number Slevin, Minority Report, The Princess Bride (20th Anniversary Edition), and more...