Cool Stuff: Eric Tan's Indiana Jones And The Temple Of Doom Poster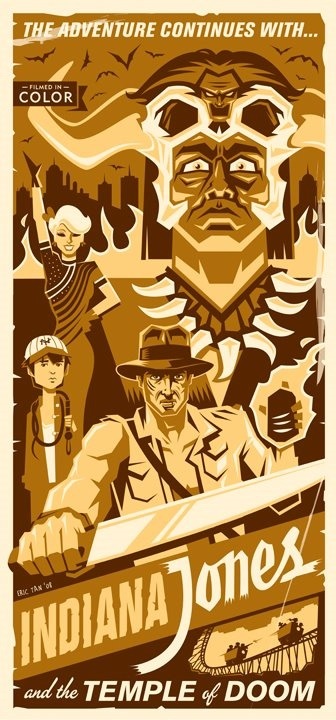 We first discovered Eric Tan through a cool UFA German inspired X-Men cinema poster he created for a Stan Lee art show event. We were lucky enough to score a print of this, and it sits framed on the wall next to my computer. Tan has done some incredible design work for Pixar which we've spotlighted in the past. Tan is doing a series of Indiana Jones movie posters for Acme Archives (check out his kick ass Raiders poster). The second poster in the series, Indiana Jones and the Temple of Doom, is now available for $150.00 unframed.

Tan writes: "Of the first 3 films, it's the one I've seen the least so I had to go back and watch it a bunch of times as a refresher. As a kid, I remembered it as being my least favorite of the series, but It's pretty kick-ass when you're older and haven't seen it for a while. So much is packed into it. At times, it might feel a bit segmented and even rushed once the action gets going in the mines, but it's still better than 98% of the films they make nowadays." ... "I ended up adding a bunch of elements that tied it more into the Raiders poster such as the logo, the limited color scheme, the large 'head' in the upper right, the little 'filmed in color' banner, and the action scene at the bottom right. I figured these changes would make a more cohesive series in the end. Throughout the design process, I constantly move things around to find that balance. Short Round and Willie moved from right to left, top to bottom, and I even separated them where she was on the upper right and he was at the bottom where the mine cars are."

Check out Tan's initial sketch after the jump.
Tan writes: "After all these years, I still don't get it right the first, or second, or third, or even fourth time. And that is why I'm an alcoholic!"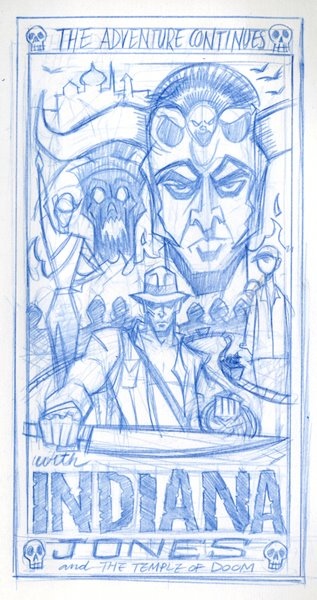 Cool Stuff is a daily feature of slashfilm.com. Know of any geekarific creations or cool products which should be featured on Cool Stuff? E-Mail us at orfilms@gmail.com.