IMDb/RT Watch: The Dark Knight - 9.7 Rating / 94% Fresh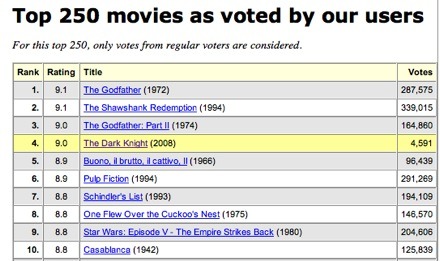 4,591 Internet Movie Database users have already rated The Dark Knight, which currently sits at a 9.7 out of 10 (or a 9.0 out of 10 from regular IMDb voters). That puts Nolan's sequel at the #4 movie of all time slot on IMDb's top 250. It will be interesting to see how this rating holds are a bigger sampling of users register their votes.
This is the second movie this year to open extremely high on IMDb. The other being WALL-E, which earned a 9.3 average user rating (5,300 votes), earning itself the #9 position on the coveted list. Three weeks and 33,000 votes later, WALL-E is holding steady at a 8.8 rating, good for a #22 placement on IMDb's charts.

The Dark Knight is also highly reviewed, earning a 94% fresh rating on Rotten Tomatoes with 154 reviews. This puts the film as the second best wide release of 2008, under only WALL-E (with a 97% rating). Again, it will be interesting to see how this holds up as more reviews come in. However, I only expect 50-60 more reviews.