The /Filmcast Interview: Ewan McGregor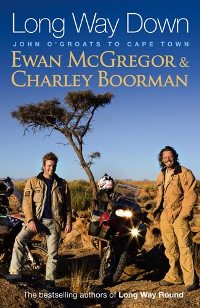 The /Filmcast Interviews are a series of interviews with movie stars, directors, and other key figures from the film industry. In this first episode, David Chen talks with Ewan McGregor and director/producer David Alexanian about Long Way Down, a BBC miniseries documenting McGregor's motorcycle trip with his friend, Charley Boorman, from Scotland to South Africa. Some readers you may also be familiar with Long Way Round, released several years ago, which chronicled the pair's ride from London to New York. Both series have accompanying books.
A special feature-length version of Long Way Down will be in U.S. theaters for one night only on July 31st. To find out whether it's playing in a theater near you, visit Fathom Events. The entire miniseries will also begin airing on Fox Reality on August 2nd, 2008.
Have any questions, comments, or suggestions? Want to be interviewed on the /Filmcast? Feel free to e-mail us at slashfilmcast@gmail.com. You can also call and leave a voicemail at (781) 583-1993.
Download or Play Now:
Subscribe: