This Week In DVD: The Bank Job, Birds Of Prey, Step Up 2, And More
This Week in DVD is a column that compiles all of the latest info regarding new DVD releases, sales, and exclusive deals from stores including Target, Best Buy, Circuit City, and Fry's.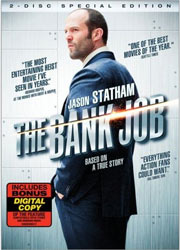 THE BANK JOB
(Available as single-disc and 2-Disc Special Editions)
Inspired by the infamous 1971 robbery, The Bank Job is a gritty and fun-filled British caper flick that's sure to keep audiences smiling. It may not necessarily be the most memorable or spectacular of affairs, but it is packed with enough amusing characters and old school appeal to warrant a viewing or two. If you're still in need of convincing, it's also got ample helpings of breasts, f-bombs galore, a couple sequences of excessive violence, and a highly gratuitous kung-fu fight scene featuring the always badass Jason Statham hurling a brick into a bad guy's face.
Blu-ray? Yes.
Notable Extras: The two-disc set comes with extended scenes and two documentaries, while the single disc has nothing.
*Does not include 2-Disc Edition, which costs $22.99 at each of the listed stores.
EXCLUSIVE DEAL:
What? Bonus Disc
Where? Target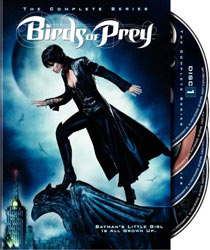 BIRDS OF PREY (THE COMPLETE SERIES)
After years of begging from a select group of Batman fans, all 13 episodes of the Birds of Prey television series have finally been released on DVD. Is this really a good thing? For some, probably not, and there's good reason to support that viewpoint. It's badly acted, features poor special effects, has many ridiculous storylines, and overall, is just a very weak addition to the Batman mythology. But damn if it isn't entertaining. This show is reserved for those able to enjoy the guiltiest of pleasures in life.
Blu-ray? No.
Notable Extras: An animated web-based series featuring the female heroes and rogues from Gotham City.
EXCLUSIVE DEAL:
What? Comic Book
Where? Best Buy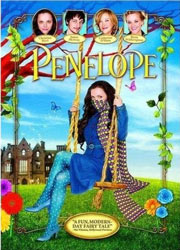 PENELOPE
Ever wondered what a girl with a pig nose looks like? No? Well, Penelope provides an answer to that question anyway. It's a romantic, whimsical tale about a cursed girl needing to find her true love before she can rid herself of her deformity. Critics and audiences have been somewhat mixed on this one, lauding its charming cast and well-meaning message, but finding aspects of the direction and storytelling sloppy. The consensus does seem to be more positive than negative though.
Blu-ray? No.
Notable Extras: A making-of featurette and a sneak peek at Twilight.
EXCLUSIVE DEAL:
What? Deluxe Edition ($22.99), with collectible packaging and Penelope novel.
Where? Target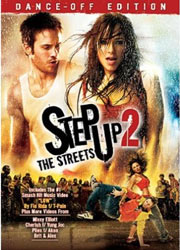 STEP UP 2 THE STREETS
If you missed the live recording of this week's /Filmcast, then stay tuned for the official release of the podcast episode in the days ahead to listen to our in-depth deconstruction of the cinematic wonder that is Step Up 2 The Streets. It's a film that gives as much insight into the world of "poppin' and lockin'" as you could possibly hope for from the viewpoint of a preppy Suburban white dude who's only thought when seeing an African American is "Golly, I bet that guy knows how to bust a move. For shizzle."
Blu-ray? Yes.
Notable Extras: This cleverly titled "Dance-Off Edition" comes with deleted scenes, bloopers, three featurettes, and five music videos.
EXCLUSIVE DEAL:
What? Free $10 giftcard with purchase of both Step Up 2 and College Road Trip (including Blu-ray).
Where? Target
EXCLUSIVE DEAL:
What? 2 for $30 deal – buy with College Road Trip.
Where? Best Buy
EXCLUSIVE DEAL:
What? 2 free ringtones – "Hypnotize" or "Can't Help But Wait"
Where? Best Buy, Circuit City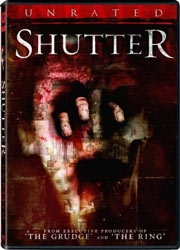 SHUTTER
(Available as regular and Unrated editions)
With every new Asian horror remake that comes out, ghosts have managed to break the barrier of the living through more and more ways, from video tapes to cell phones to transplanted eyeballs, etc. Now we have another one to add to the list: photographs. And yes, it's just as lame as it sounds.
Blu-ray? Yes.
Notable Extras: An audio commentary, five featurettes, deleted scenes, and an alternate ending.
EXCLUSIVE DEAL:
What? Save $5 when you buy with Asylum.
Where? Best Buy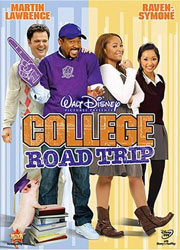 COLLEGE ROAD TRIP
Get ready, because the new Martin Lawrence vehicle College Road Trip has all the hilarity of Rebound jam-packed with all the insightful social commentary of Big Momma's House 2. Don't let the painfully awful slapstick gags fool you; this movie is the definition of "artistic integrity."
Blu-ray? Yes.
Notable Extras: Alternate opening/ending, a gag reel, two audio commentaries, "Raven's Video Diary," and a featurette.
EXCLUSIVE DEAL:
What? Free $10 giftcard with purchase of both College Road Trip and Step Up 2 (including Blu-ray).
Where? Target
EXCLUSIVE DEAL:
What? 2 for $30 deal – buy with Step Up 2.
Where? Best Buy
Other noteworthy DVDs available this week...
The Year My Parents Went on Vacation – Meet Bill – Saving Grace (Season 1) – Dallas (Season 9) – Eureka (Season 2) – Reno 911 (Season 5) – Trafic (Criterion Collection) – Asylum
Discuss: What are you planning to rent or buy this week?

NOTE: Some deals may be in-store only.

Exclusive: Free movie money (up to $8.50) when you buy any of the following $12.99 DVDs.
$12.99 – The X-Files: Super Soldiers (Vol. 1-4), The Outer Limits (Vol. 1-3), Misery (Collector's Edition), X-Men: The Last Stand (Collector's Edition), Fantastic 4: Rise of the Silver Surfer (Power Cosmic Edition), I, Robot (Collector's Edition)
$14.99 OR $22.99 (Blu-ray) – Jumper, The Ruins, Rambo, Juno, Walk Hard, Across the Universe
$5.99 – Batman Begins, V for Vendetta, Superman Returns, Constantine
$9.99 – The Batman (Season 1-4), Superman: Doomsday, Justice League: The New Frontier
$12.99 – Batman Beyond (Seasons 1-3)
$17.99 – Batman: The Animated Series (Seasons 1-4)
$19.99 – Justice League (Seasons 1-2)

$6.99 – Crank, The Transporter (Collector's Edition), The Transporter 2, Smokin' Aces, Inside Man, Man on Fire, Snatch, Lock Stock and Two Smoking Barrels, Collateral, The Rundown, A History of Violence, The Professional, Borat, Ocean's Twelve, The Italian Job, and more...
$7.99 – The Fifth Element (Ultimate Edition), Tears of the Sun (Director's Cut), The Patriot (Extended Cut), Boyz in the Hood (2-Disc Anniversary Edition), Rocky Balboa, Vacancy, Hostel: Part II (Director's Cut), Final Fantasy VII: Advent Children (2-Disc Special Edition), and more...