Must Watch: Outlander Movie Trailer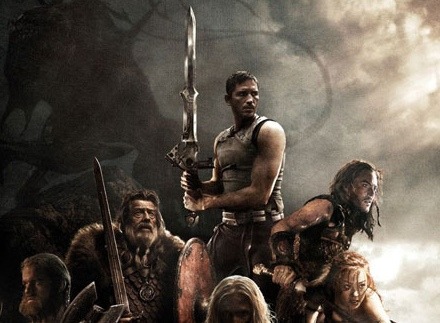 I'm not a viking movie type of guy, but who is? The international movie trailer for Outlander has hit the interwebs and I can't tell you how excited I suddenly am to see this flick. I mean, who doesn't want to see a movie about "vikings teaming with a human alien to take on an alien creature"? Watch the trailer below, and tell me what you think! Am I insane, or could this be a lot of fun?
[flv:http://bitcast-a.bitgravity.com/slashfilm/trailers/outlander.flv 470 252]
Plot Synopsis: As an age old battle rages amongst the stars, Kainan's ship burns brightly as it crashes into the Nordic coast. As his space craft comes to rest in the fjords of ancient Norway, it's with dismay that Kainan realizes that he wasn't the only survivor. A second passenger, a Moorwen also emerges from the wreckage. A Fierce and animal-like creature, the Moorwen is intent on causing harm to those it perceives have wronged it. As the Moorwen kills everything in its path, Kainan must work together with the Vikings to destroy the beast before it destroys them all. Starring James Caviezel, Sophia Myles, Jack Huston, John Hurt, and Ron Perlman.
The Weinstein Co have yet to announce a U.S. release date for Outlander.
Hat tip:
rowthree