Black Dynamite Red Band Trailer With Michael Jai White (Whoa)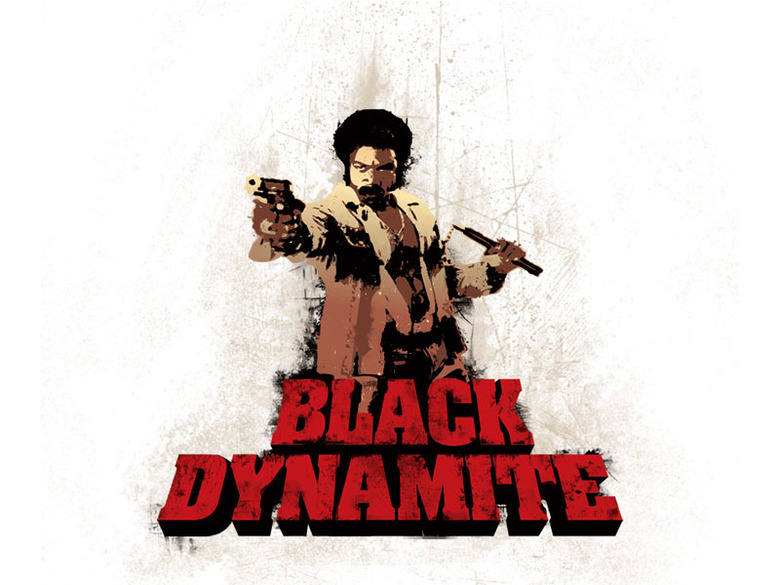 From Spike Jonze's "Sabotage" to PTA's Angels Live in My Town to the full-on grindhouse wave, the ship for ironic urban 'sploitation needs to sail already. We'll make an exception for the new Dolemite trailer because it has laser beams, but that's it. Let it rest. Okay, um, we might need to make another exception. The trailer for this year's Black Dynamite—off the map, much?—hints at an entire film that genuinely looks as if it played during the days when Tarantino's and Wu-Tang's sneakers used to stick to seedy theater floors. And we're not exaggerating, take a look. That is a pretty difficult aesthetic to pull off in 2008 without looking like a jackass. Even the cast looks of the era.
The film's writer/director is Scott Sanders, who previously helmed an obscuro Alec Baldwin flick, but c'mon, is that really a strike against? Michael Jai White, who has a role in The Dark Knight, played Spawn and had a cut part in Kill Bill, stars as the titular kung-fu fighting Shaft-like badass. His co-stars include Arsenio Hall as a man named Tasty Freeze, Tommy Davidson as Cream Corn, Sk8rboi porn starlet Charlotte Stokely, and martial artist Roger Yuan. How about a bowl of Totally Random? Here's the logline...
"This is the story of 1970s African-American action legend Black Dynamite. The Man killed his brother, pumped heroin into local orphanages, and flooded the ghetto with adulterated malt liquor. Black Dynamite was the one hero willing to fight The Man all the way from the blood-soaked city streets to the hallowed halls of the Honky House"
A quick look around the Web shows that followers of Black Dynamite are pretty damn excited (also: it has followers), and little tidbits from the talent involved imply that it's a super-coiled passion project that's ready to strike outta nowhere. So, what do you think? And yeah yeah yeah, today's red band trailer for Larry Bishop's Hell Ride doesn't look too shabby either (even though Peter gave it, like, a zero).
[flv:http://bitcast-a.bitgravity.com/slashfilm/trailers/blackdynamite.flv 470 352]
Black Dynamite opens sometime this year.
via Cinema Suicide (and thanks to Zach)