Comic Con Thursday Schedule Released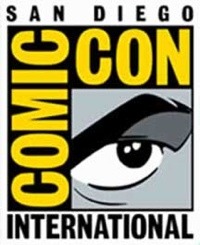 The full Thursday schedule for Comic Con 2008 has leaked onto the web over on Spout. Rather than repost the whole schedule, I thought I'd take a look at the Film and Television related panels we're interested in attending:
10:00-11:00 Kings: Exclusive Sneak Peek Screening and Q&A with Cast and Executive Producers
Kings is a contemporary re-imagining of the timeless tale of David and Goliath, an epic story of greed and power, war and romance, forbidden loves and secret alliances, and a young hero who rises to power in a modern-day kingdom. Be the first to see an exclusive sneak peek from the two-hour pilot. Moderated by Greg Grunberg (Heroes), the panel includes a Q&A with creator/executive producer Michael Green (Heroes), director/executive producer Francis Lawrence (I Am Legend), executive producer Erwin Stoff (I Am Legend), and the cast: Golden Globe winner Ian McShane (Deadwood), Chris Egan (Resident Evil: Extinction), Susanna Thompson (Star Trek: Voyager), Sebastian Stan (Gossip Girl), and Allison Miller (Seventeen Again). Room 6B
10:00-11:00 Masters of the WebFor the second year in a row the biggest genre and movie websites are coming together to discuss how new media have affected movie making, what it takes to run a popular site, and much more in a panel discussion and Q&A session. Participants include Robert Sanchez (IESB.net), Garth Franklin (Darkhorizons.com), Mike Sampson (Joblo.com), Erik Davis (Cinematical.com), John Campea (TheMovieBlog.com), Brad Miska (Bloody-Disgusting.com), Eric "Quint" Vespe (Aintitcool.com), Devin Faraci (CHUD.com), Paul Christensen (Movieweb.com), and Kellvin Chavez (Latinoreview.com). Moderated by directors Mark Neveldine and Brian Taylor (Crank 2, The Game). Room 32AB11:00-12:00 The Disney Animation Story ProcessNathan Greno (head of story, Bolt), Don Hall (head of story, The Princess and the Frog), Mark Kennedy (head of story, Rapunzel), Joe Mateo (story artist, Bolt), Michael LaBash (story artist, Bolt), Paul Briggs (story artist, The Princess and the Frog), and Josie Trinidad (story artist, The Princess and the Frog) offer an in-depth, behind-the-scenes look into the story process at Walt Disney Animation Studios. Coming together exclusively at Comic-Con, these story team leaders will take you from first concept to final story approval as they discuss the art of storyboarding, re-create story pitches, and share boarding styles from their upcoming animated features. Don't miss this revealing and humorous panel and your chance to get a sneak peek at Disney's next animated feature, Bolt! Room 32AB11:15-12:15 30th Anniversary Battlestar Galactica PanelRichard Hatch (Tom Zarek/Apollo), Bear McCreary (BG composer), producer Tom DeSanto (Transformers, X-Men), Dr. Kevin Grazier (science consultant), and surprise guests present an in-depth discussion of the Battlestar universe from the classic to the re-imagined and beyond, including BSG trailers and Q&A. Room 6B11:30-12:30 Hasbro: GI JoeAs Hasbro ramps up for the summer 2009 blockbuster movie release of GI Joe, Aaron Archer (Hasbro Design), Michael Ritchie (Hasbro Marketing), and Michelino Paolino (Hasbro Design) discuss this year's product line, entertainment, and other initiatives. Panelists will include special guests that you won't want to miss, plus Q&A! Room 7AB11:30-1:00 20th Century Fox: The Day The Earth Stood Still and Max Payne
Stars Keanu Reeves and Jennifer Connelly, plus director Scott Derrickson and producer Erwin Stoff, present an exclusive look at The Day The Earth Stood Still, Fox's contemporary reinvention of its 1951 classic. Keanu is Klaatu, an alien whose arrival on our planet triggers a global upheaval. As governments and scientists race to unravel the mystery behind the visitor's appearance, a woman (Jennifer) and her young stepson get caught up in his mission—and come to understand the ramifications of his being a self-described "friend to the Earth." Klaatu Barada Nikto. The legendary interactive video game Max Payne comes to the big screen, telling the story of a maverick cop determined to track down those responsible for the brutal murder of his family and partner. Hell-bent on revenge, his obsessive investigation takes him on a nightmare journey into a dark underworld. As the mystery deepens, Max is forced to battle enemies beyond the natural world and face an unthinkable betrayal. "Max Payne" himself—Mark Wahlberg—will be on hand with Mila Kunis, Ludacris, and director John Moore to discuss turning the game's noirish, hard-hitting, and complex world and characters into a movie event. Hall H
11:45-12:45 Knight Rider: First Look at the New Series and Q&A with Cast and Executive ProducersOn the heels of NBC's hit sequel movie based on the iconic 1980s television classic, Knight Rider has been reinvented as a supercharged action series showcasing the new KITT (Knight Industries Three Thousand). Be the first to see exclusive footage from the new series. Moderated by Television Week deputy editor/columnist Josef Adalian, who participates in a Q&A session with executive producer/showrunner Gary Scott Thompson (The Fast and The Furious, Las Vegas); executive producer David Bartis (Heist, The OC); and the cast: Justin Bruening (Cold Case), Deanna Russo (NCIS), Sydney Tamiia Poitier (Veronica Mars), Paul Campbell (Battlestar Galactica), Yancey Arias (Kingpin), Bruce Davison (X-Men) and Smith Cho (Blades of Glory). Room 6A12:00-1:00 Sideshow CollectiblesSideshow Collectibles is a leading manufacturer in the world of figure collectibles, with an award-winning artistic team. Sideshow's product development team offers insights into the newest products and licenses, as well as a Q&A session. Room 212:00-1:00 Doctor WhoWriter Russell T Davies (Doctor Who), executive producer Julie Gardner (Torchwood), and writer Steven Moffat (Doctor Who) discuss their creative process and experience working on the BBC's Doctor Who—Britain's most successful sci-fi franchise—with exclusive clips and a Q&A session. Ballroom 201:00-2:00 TorchwoodWriter Russell T Davies (Doctor Who), executive producer Julie Gardner (Torchwood), writer Steven Moffat (Doctor Who), and actors John Barrowman, Gareth David-Lloyd, Naoko Mori and Burn Gorman discuss their creative process and experience on working on BBC America's highest-rated show ever—Torchwood— followed by a Q&A session. Ballroom 201:15-2:45 Summit PicturesSummit Entertainment presents a sneak peek of exclusive footage of some of its upcoming major film releases:
Push—In this futuristic sci-fi thriller set in Hong Kong, a group of young American ex-pats with extraordinary psychic abilities must band together and use their different talents on a final mission to escape a clandestine government agency forever. Chris Evans, Dakota Fanning, Djimon Hounsou, Camilla Belle and director Paul McGuigan present a first look at exclusive footage and answer questions about the film.
Knowing—An action thriller of global proportions. Director Alex Proyas appears in person to introduce never-before-seen footage for his new major motion picture starring Nicolas Cage.
Twilight—Based on the #1 New York Times best-selling book series, Twilight is an action-packed, modern-day love story between a vampire and a mortal. Director Catherine Hardwicke, author Stephenie Meyer, and the cast—including Robert Pattinson (Edward), Kristen Stewart (Bella), Cam Gigandet (James), Rachelle LaFevre (Victoria), Edi Gathegi (Laurant), and Taylor Lautner (Jacob)—answer your questions about bringing the world of these beloved characters to life on the big screen and show exclusive footage from the film. Hall H
2:00-3:00 Red Sonja: One-on-OneRobert Rodriguez (Sin City), Rose McGowan (Grindhouse), Doug Aarniokoski (2nd unit director, Resident Evil 3) and David White (Undisputed 2) are teaming up to bring back the red-headed warrior woman known as Red Sonja. Join Robert, Rose, Doug, and David for this one-on-one interview and Q&A session! Room 6CDEF2:00-3:00 Spotlight on Jim Woodring: Please Stand ByComic-Con special guest Jim Woodring (The Frank Book) presents a slide show with commentary providing a rare overview of his life, career, motivations, methods, and dark personal secrets. Q&A session to follow. Room 102:15-3:15 Anchor Bay: Jack Brooks Monster Slayer Artists PanelPreview the upcoming DVD release of Jack Brooks Monster Slayer with star/producer Trevor Matthews, director/co-writer Jon Knautz, producer Patrick White, composer Ryan Shore, creature designer David Scott, and horror icon Robert Englund! Then hear writer/director Daniel Waters (Heathers), Oscar-nominated screenwriter Josh Olson (Masters of Science Fiction), and writer/director Robert Hall (Laid to Rest) discuss their latest Anchor Bay projects! Moderated by Shock Til You Drop's Ryan Rotten. Ballroom 203:00-4:00 DVD/Blu-ray Producers 2008Bill Hunt, Todd Doogan, and Adam Jahnke (The Digital Bits.com, Geek Monthly) discuss the latest DVD and Blu-ray Disc developments and look ahead at upcoming releases. Panelists include Javier Soto (Pan's Labyrinth, Hellboy II: The Golden Army), Charles de Lauzirika (Blade Runner, Twin Peaks), Andy Mangels (The Real Ghostbusters, Slimer), Cliff Stephenson (Rambo, Crank 1 & 2), and Robert Meyer Burnett (Shoot 'Em Up, Free Enterprise 2). There will be lots of Q&A, so be sure to bring your questions! Room 5AB3:00-4:00 Wizard's First RuleSam Raimi (Spider-Man) and Ken Biller (Star Trek: Voyager) give you a first look at the upcoming television series Wizard's First Rule. The one-hour weekly series, premiering in late fall, is based on Terry Goodkind's bestselling epic fantasy series The Sword of Truth, which follows the extraordinary transformation of woodsman Richard Cypher into a magical leader who joins with a mysterious, beautiful woman to stop a bloodthirsty, sinister tyrant. Join Sam and Ken for a moderated interview and audience Q&A session! Room 6B3:00-4:00 Disney: Race to Witch MountainWhat secrets does Witch Mountain hold? Stars Dwayne Johnson and Carla Gugino and director Andy Fickman talk about the mysterious, paranormal activity around Witch Mountain. Dwayne, Carla, and Andy will present the first look at the movie and answer audience questions as they talk about the thrilling action-adventure that is set to hit theatres in March 2009! Hall H4:15-5:15 Afro Samurai: Resurrection Exclusive Worldwide Premiere!Afro Samurai picks up his sword once again for the second installment of this critically acclaimed, funktastic anime! This action-packed panel features the creators behind the hit, including star and executive producer Samuel L. Jackson (The Spirit), original creator Takahashi Okazaki, musical artist The RZA (Kill Bill), and executive producer Leo Chu (Spike TV). Be the first to see the worldwide premiere of the exclusive Comic-Con trailer, dazzling artwork from the manga, and never-before-seen demos of the pulse-pounding video game. Room 6B4:15-5:15 Lionsgate/Marvel: Hulk vs. WolverineAlberta, Canada: Over the past week, the Incredible Hulk has been tearing a line across the Canadian wilderness, leaving a swathe of destruction in his wake. He has to be stopped, and there's only one man up to the job. He's the best at what he does, but what he does isn't very nice. He's Wolverine, an elite agent of Canada's top secret Department H, and he's been put on Hulk's trail with a single objective: stop the green goliath...at all costs. Hulk and Wolverine are about to enter the fiercest battle of their lives. And they have no idea that there are a few unpleasant surprises waiting for them on the other side. Meet Craig Kyle (supervising producer/co-writer), Frank Paur (producer/supervising director), Christopher Yost (co-writer), and others involved in this Marvel Animation milestone and watch the complete Hulk vs. Wolverine months before its January 2009 Blu-ray and DVD release! Hall H4:30-5:30 HBO's True BloodBased on the popular Sookie Stackhouse novels by Charlaine Harris, True Blood is created by Alan Ball, creator of HBO's Emmy-winning series Six Feet Under. The series takes place in the not-too-distant future, when, thanks to the invention of synthetic blood, vampires no longer need humans for their fix and can walk freely, if not yet comfortably, among their living counterparts. With their integration into a small Louisiana town causing a stir, a love story ensues between Sookie Stackhouse (Anna Paquin, the X-Men films; Academy Award winner for The Piano), an innocent waitress with the unusual ability to read minds, and vampire Bill Compton (Stephen Moyer, The Starter Wife). The series also features Ryan Kwanten (Summerland), Rutina Wesley (How She Move), Sam Trammell (Judging Amy), and Nelsan Ellis (The Inside). True Blood debuts September 7 exclusively on HBO. Room 6CDEF4:45-5:45 "SCREAM" Like a GirlSpike loves women. And the coolest women on the planet are the ones who destroy aliens, defeat serial killers and battle evil villains with their superpowers! In honor of Spike's Scream Awards 2008—the first and most important televised event that celebrates the genius creative talent behind the powerhouse Hollywood genres of comic books, science fiction, fantasy and horror—Spike brings you a candid discussion of these genres from the women they love, who are poised to rule the fanboy's universe! Moderator Kevin Smith (Clerks), the brilliant writer, director, and comic book genius hosts an all-female panel of actresses, artists, writers, directors, and producers in a discussion about working in these genres from their unique point of view. Twenty lucky panel attendees will win tickets to the 2008 Scream Awards. Ballroom 206:00-7:00 Dark Castle EntertainmentLaunched in 1999, Dark Castle Entertainment was founded to create a unique brand of horror movies inspired by the works of legendary filmmaker William Castle.  Recently, Dark Castle entered into an arrangement with CIT Group Inc. to broaden the company into a full genre label encompassing feature films, Home Video and comic books.  Under the supervision of producer Joel Silver, Dark Castle's upcoming roster includes the action film RocknRolla, directed by Guy Ritchie and starring Gerard Butler, scheduled for an October 2008 release; Ninja Assassin, directed by James McTeigue and starring Korean music sensation Rain; and Whiteout, directed by Dominic Sena and starring Kate Beckinsale.  Its Home Video titles will include The Hills Run Red, starring Sophie Monk, William Sadler and Tad Hilgenbrink, and Comic Book projects will include Ferryman, by Marc Andreyko and Jonathan Wayshak.Hall H5:45-6:45 Showtime: DexteRShowtime presents exclusives from the set of the highly anticipated third season of Dexter. Moderator Kristin Dos Santos (E!) presides over this revealing interview and Q&A session with the top stars and executive producers of Dexter, featuring Michael C. Hall, Julie Benz, Clyde Phillips, and John Goldwyn, plus a special guest! Room 6CDEF6:00-7:00 Life, Death, Life of Star TrekYou've heard a lot of hype about sci-fi's first franchise lately, now it's time to see what it's all about and celebrate an illustrious 40 years of boldly going with this regular panel of unpaid, uncensored Treksperts, who pay homage to Trek's past and future with some special surprises and exclusive audio-visual treats you'll only see here. Daren Dochterman (ST: TMP Director's Cut Special Edition), Robert Meyer Burnett (Free Enterprise), Jeff Bond (The Music of Star Trek), and moderator Mark A. Altman (Free Enterprise) talk Trek like no one else can...or will. Room 26:00-7:00 Devil's Due Presents: Hack/Slash and Beyond!Hollywood screenwriter Justin Marks (Street Fighter: The Legend of Chun-Li) joins Hack/Slash creator Tim Seeley (Halloween: Nightdance) to talk about the new H/S film and his new DDP/Capcom comic book series Bionic Commando. Also featuring director Todd Lincoln, Hack/Slash Annual stars from The Suicide Girls, and a blockbuster surprise guest you won't want to miss! Room 87:00-9:00 Comedy Central TV Funhouse with Robert SmigelRobert Smigel (Saturday Night Live) and Dino Stamatopoulos (Morel Orel) reunite to discuss the most groundbreaking show to ever hit (and subsequently disappear) from basic cable. Join the guys to relive the glory of the best show you barely remember. Room 6CDEF7:00-9:00 Will Eisner: Portrait of a Sequential ArtistGet a look behind the mask of The Spirit creator in this feature-length documentary movie. With a triumphant world premiere at the Tribeca Film Festival, the production features the legendary writer/artist Will Eisner with Frank Miller, Stan Lee, Jules Feiffer, Jack Kirby, Kurt Vonnegut, and many others. Following this unique free movie screening, director/producer Andrew D. Cooke and writer/producer Jon B. Cooke will be available for a dynamic Q&A session. Room 7AB8:00-8:30 Lionsgate and Marvel: Punisher: War Zone!Producer Gale Anne Hurd (The Incredible Hulk) and stars Ray Stevenson (Rome) and Julie Benz (Rambo, Dexter) take you into the world of the Punisher for an exclusive first look. You won't be prepared! Room 6B8:30-9:00 Lionsgate and Twisted Pictures: Saw 5Join director David Hackl, along with the filmmakers and cast for an exclusive first look at the latest terrifying installment of the most successful horror series in history! Room 6B8:30-10:00 Star Wars Fan Film AwardsIt's the galaxy-spanning return of a Comic-Con favorite! The Star Wars Fan Film Awards come back to Ballroom 20 as the Thursday night big event. Ballroom 209:00-10:00 Repo! The Genetic Opera First LookSee what director Darren Lynn Bousman has been up to since directing the last three Saw movies: Repo! The Genetic Opera. Check out the phenomenon that is this Goth Rock musical with sneak peeks and the new trailer plus stories from Darren and the actors themselves, including Alexa Vega (Spy Kids), Bill Moseley (The Devil's Rejects), and Ogre (the band Skinny Puppy), among others. Room 6B10:00-12:00 Warner Premiere and Warner Home Video: World Premiere of Lost Boys The TribePrepare to sink your teeth into the long-awaited and highly anticipated next chapter of the cult phenomenon started by the 1987 cult classic, and be the first to see Lost Boys The Tribe before its July 29 DVD release at this special world premiere. More than 20 years in the making, Lost Boys The Tribe is an homage to the original 1987 cult hit and stars Corey Feldman as vampire hunter Edgar Frog, along with Tad Hilgenbrinck, Angus Sutherland, and Autumn Reeser, with appearances by Jamison Newlander and Corey Haim. Meet the cast and filmmakers as director P J Pesce and original Lost Boys star Corey Feldman are joined by Tad Hilgenbrinck, Angus Sutherland, and Autumn Reeser to answer questions and talk about the making of this new horror classic. Ballroom 20.