New Concept Art From Rob Zombie's Tyrannosaurus Rex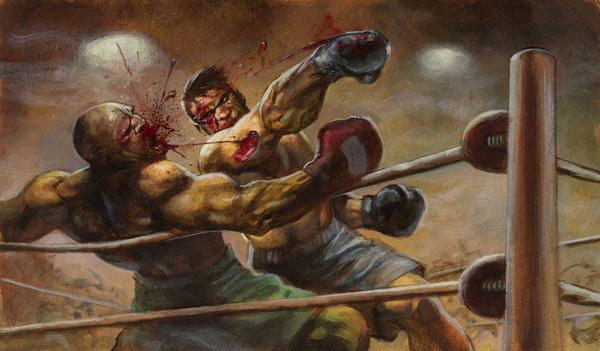 More pulp violence from Rob Zombie today, with the director posting a new piece of art from his secretive, live-action film entitled Tyrannosaurus Rex on MySpace. The art is in the same style as the previously released teaser poster, and bears similarity to this cover of The Nail, the Dark Horse comic book Zombie collaborated on a few years ago. However, Zombie has emphasized to fans that his movie is not a direct adaptation. Here's the rumored logline according to Bloody Digusting from back in February:
"T-REX is about a wrestler named Tyrannosaurus Rex who is on the run from a biker gang from hell. Furthermore, the idea for the film is loosely based on the comic book Zombie did with Steve Niles (30 Days of Night) entitled THE NAIL."
/Film still hopes to see Zombie take advantage of the literal potential in the film's title by including an homage to the JP-ripoff Carnosaur. Alas, that seems unlikely. Cool art though.
Discuss: The art. The Nail. The movie (re: not his underrated Halloween remake).