Mark Millar Has "Big Name Action Director" For A Superman Returns Revamp? Announcing At Xmas? Madness.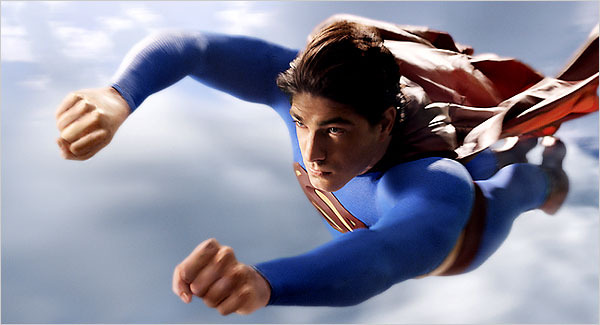 Let's hope Mark Millar sticks around the movie business for many years, and not only because the guy gives great quotes. With the adaptation of his Wanted comics raking in considerable bank and an adaptation of Kick-Ass on the way from director Matthew Vaughn (Layer Cake), Millar is not allowing a Superman Returns revamp to vanish from his broadening Hollywood map. In fact, in this latest candid interview with the Daily Record, Millar sounds as if he's setting a dunkirk into action that would see Bryan Singer relieved of his directorial duties...
"Since I was a kid I've always wanted to reinvent Superman for the 21st century," said Millar. "I've been planning this my entire life. I've got my director and producer set up, and it'll be 2011. This is how far ahead you have to think. The Superman brand is toxic after that last movie lost [a good chunk of change], but in 2011 we're hoping to restart it. Sadly I can't say who the director is, but we may make it official by Christmas."
Ding Ding. Just back in March, Singer confirmed he was meeting with writers with the intention to direct a more action-oriented and less nostalgic sequel. In April, Legendary Pictures chairman, Thomas Tull, cryptically pitched the sequel, tentatively entitled, Superman: The Man of Steel, as "Superman as more of an angry god."
We speculated then that Tull wasn't referring to an adaptation of Millar's Superman: Red Son, his celebrated 2003 comic book that reimagined Supes originally landing to Earth in the Soviet Union rather than in America. "Superman meets Stalin Summer 2011," yeah, that would pack in the U.S. Crocs set. But Millar seems to have a "detox" vision all worked out. Also, note that while his latest announcement seems incredibly assured, he added...
"But fingers crossed [a Superman revamp] could work out, that would be my lifetime's dream."
Did the guy speak too soon about announcing a director then? Before he could convert Wanted's success into industry muscle, Millar was making similar comments in 2007, when he announced his Superman "remake" pitch to Warner Bros...
"This has to be Superman for the 21st Century, keeping everything we adore, but starting from scratch and making the kids love it as much as the 30-somethings. I would honestly write this thing for free."
Personally, I hope Millar gets his wish from the Zoltar machine. Take for instance, the The Incredible Hulk, which has come to be viewed as a success in the eyes of most geeks, but didn't rack up enough grosses or pop culture clout to overshadow Ang Lee's prior film. In the end, the new Hulk was not an obvious-enough departure. They didn't exploit the fact, directly or indirectly, that most people felt burned by the earlier version. There was never an "oh shit!" defining moment in the many trailers, so Web attention once again diverted to the Hulk's tweaked CGI. A new Superman is even trickier.
Bryan Singer was allowed to make his dreamy passion project using one of the most commercial characters ever. That overpriced mush just didn't fly. Let's move on. Singer and another $250 millon isn't going to solve the problem. That's like Ang Lee remaking Hulk at the demands of fans. To be frank, Millar knows a lot about "oh shit!" moments and what gets people chattering in this day and age, and he clearly loves the character's mythology as much as Singer. Why not have him in the driver's seat for the entire process? More on this as it develops—somebody from WB has to refute/confirm Millar's latest info, right? Man, what do you think Brandon Routh is thinking about all of this back and forth? It's neverending.
Oh and you gotta love Millar's fight for his right to live in Scotland and not relocate to Los Angeles....
"If I lived in LA I'd just write like everyone else. My pals over there are all on their second wives and do drugs. It's a world I don't want my kid to grow up in. I've been married since I was 23. I have a really normal set up."
UPLATE UPDATE: Monster post! Millar posted an update regarding his comments above on his site's message boards (a thanks to Obsessed with Film)...
"PS: That Superman news is interesting, isn't it? In the interests of clarity (because I'm sure this will be picked up somewhere) a very well known American action director heard about my love of Superman, approached my and asked me to team up with he and his producer to make a pitch for this. We've been talking for several weeks now and, if this is going to happen, we'll know by Christmas. He has huge pull at WB so fingers crossed. But this is nothing more than a huge US name pulling me into his fold and making me part of a package."
Hmmm, a big name American action director with conecs at Warner Bros. George Miller is a no. I think we can mark through Michael Bay, Gore Verbinski, James Cameron, Robert Rodriguez and Brett Ratner. Tony Scott's British.
Discuss: Any guesses as to what director Millar is referring to? Should Millar get a shot at a Superman Returns "detox" or would you rather see Singer fired up for a sequel? Who's your ideal choice, if not Singer? Purely hypothetical: would you like to see Timur Bekmambetov's take on the iconic 'S' after Wanted? We're not endorsing, but it would be interesting.