UPDATED: Eddie Murphy Retiring? Talks Beverly Hills Cop 4. Also: Brett Ratner Talks "Hard Core R"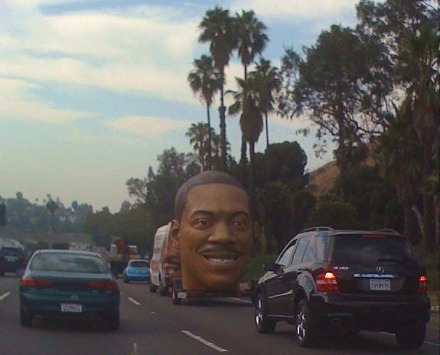 We all know that Eddie Murphy will end up on screen again—whether as a jivin' animal, an obese person near a pool, in a third sequel to June '09's awful-sounding NowhereLand, or (hail mary) Inglorious Bastards. But the man who made Buckwheat even bunnier just announced to Extra (classy) that he's throwing in the towel when it comes to feature films...
"I have close to 50 movies and it's like, why am I in the movies?" he said, adding, "I've done that part now. I'll go back to the stage and do standup."
All for it. A (hypothetical) HBO-special with a rowdy blessing from Chris Rock is just what the guy needs. But what about Murphy's planned Beverly Hills Cop 4 with Brett Ratner and a poor guy dressed up as "PG" who's contractually obligated to wave and wave...
Murphy, 47, said that while a "Beverly Hills Cop 4" flick was in the works, he didn't want to do it, because "the movie wasn't ready to be done."
But will he still put on his Axel Foley body suit anyhow? Murphy's tiny alien family comedy, Meet Dave (above), opens and possibly flops on July 11th, and he's currently filming A Thousand Words with Brian Robbins, who directed Meet Dave and Norbit and, uh, Good Burger and The Show concert film with Biggie Smalls. Yeah, it's probably hopeless, unless there's a Rosetta Stone for the F-word. Oh yeah, it's called Eddie Murphy Raw. Hopeless.
UPLATE UPDATE: Our friends at Latino Review spoke with Ratner who put his tan smack down on those MTV-bred rumors that BHC4 would be PG. Evidently this was before Murphy expressed his displeasure with the film's progress...
"Dont believe everything you read on the internet. Believe me, this is going to be a hard core 'R' Beverly Hills Cop. I start shooting next year"
Hard core, kids. Hear that?
UPDATE 07/01/08: Murphy seemed far more enthusiastic about Beverly Hills Cop 4 in a recent chat with, oddly enough, MTV...
"I've been in a bunch of different meetings with people, 'Oh, we have to take Axel this way." I ain't seen no script yet [but] I'm not rolling out 'Beverly Hills Cop 4' for it to be a continuation of 'Beverly Hills Cop III,' which was a crock of shit," Murphy said. "I wanna do a good one!"
He added...
"If I do it, it's gonna be some shit that's right!"
So, basically, as Brett Ratner said, "it's going to be hard core" and stuff. Could this turn out good?
post inspired by FirstShowing