Hunter Stephenson's Movie Review: Wanted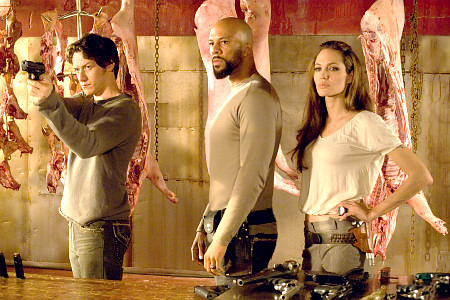 The following review contains very minor spoilers.
Not unlike applying an exact birth date to new slang, it's difficult to gauge whether director Timur Bekmambetov (Night Watch) has invented a new language for the modern action film with Wanted. We've reached a point where today's actioners are required to wear moon shoes—films like Wanted and Crank aspire to both hat-tip and one-up the Wachowski brothers' hyperactive stylings (sans the techno white dreadlocks and Columbine coats), all the while hopping on and off the latest trends in video games, technology and comic book movies like coked-out mosquitoes.
Of course, Wanted itself is based on a comic book miniseries by Mark Millar—some fanboys would say the film merely uses the comics for TP—but the movie feels like a cultural genre gangbang where basic movie logic not only no longer applies, it's laughed at under a calm hipster veneer for being old school.
Wanted takes the "enlightened chosen one" storyline of Unbreakable, ditches most of the ethic recoil, remolds the central hero as a sleepy, tech-literate 20something (note: resembling today's bloggers) and posits him in a Grand Theft Auto urban fantasia with endless ammo, life, freedom and a doting, hushed Angelina Jolie at his side. Before he learns the way of the gun/Jolie, our aforementioned hero, Wesley Gibson, played by James McAvoy (Atonement), drifts though a cubicle-strewn life and can't bother caring that his GF is getting dogged by his BFF on his IKEA table (shades of Fight Club) on the regular. But that's before Gibson finds out that he can bend bullets (how trendy!); he's also one of the world's elite natural born killer-slash-assassins. The movie's two lessons: 1) not trying too hard is vital to coming off cool and 2) hot doting girls are that much hotter when they rarely speak.
What many viewers will find equally charming and lazy about the flick is how completely over-it it is in terms of making sense. When our mortal (super)hero should be smushed into liquid bits after being caught in the nightmarish destruction of a train, he's merely stirred. Of course Gibson can't die in this scenario, the superhero in a movie never does. But Wanted defenestrates any and all rule-books when it comes to placing an action hero in genuine jeopardy. Jeopardy is overrated according to this film, even for a mortal assassin partying in fantasy land. And you'll like it!
When John McClane cut up his feet in Die Hard and puffed on a final cig as he told Al to get a message to his kids and wife, you knew he wouldn't die, but damn, it looked like his was felled. That was the standard action hero protocol for years. Here, when Gibson smashes his body atop a train hard enough to kill him on impact, he merely wakes up to find himself inexplicably soaking in a magical bath tub, already back to 98% health. These numerous sauna recoveries serve as geek intermissions between the film's grandiose stunts. They're a locker room of sorts for a weightless blockbuster. And when they're over, Gibson and his newfound Fraternity of killers quickly go back to: shooting people, knifing and being knifed, practicing kills on elderly corpses, blowing up rats, and having a blast. And then bathing some more.
This is the R-rated, vicarious, hedonistic action film of summer 2008. It's ultimately too pleased with its laissez-faire M.O.—that's why the rah-rah Ferris Bueller-ish ending is fitting and yet underwhelming BS—but the lavish budget, high production values and the director's cavalier disposal of genre tropes win out against better judgment, sort of like R. Kelly in court. Bekmambetov proposes that Americans are permanently tired of the chalk board exposition prominent in these types of films, and his picture trades out smart, meaningful dialogue and passable explanation for hipper-than-thou crowd pleasing. if you're concerned with canon, the Fraternity's mythology, character backgrounds, Bekmambetov leaves bread crumbs lying around.
Not only has Wanted ta-ta'd the rules for action, but it's reinforced a new type of action star. When doing press on The Daily Show and Craig Ferguson, McAvoy (Atonement) has appeared humorously apologetic and surprised that his film doesn't play like a $10 shrug burn—a movie experience he's clearly familiar with as a viewer. This type of actor is to action what the man-child was to comedy two years ago. Unlike Jason Statham, who is cut from a grizzly '80s cloth, McAvoy plays this role like a post-ironic Mario. I hope Hayden Christensen gets whacked and McAvoy takes his place because his indifference is ours, not the cause of it. And his spin/PR act is warranted. He's a smart lead in a film where God, some divine power or something orders out random hits on people using a weaving apparatus called a loom. It's so random, it's liked getting slapped with a cartoon fish. There are even Pai Mei-wannabe training sequences using the mysterious loom with McAvoy, Morgan Freeman and Jolie that would draw a dumb blank in Dirty Dancing or The Karate Kid. Not very badass.
Right when your mind starts telling you, "This scene makes me think of Gone in Sixty Seconds," the film takes a sharp turn, leaves you welcomely disoriented and drops a successful twist/stunt in your lap. Cars flip and shimmer in the air with rockstar finesse and execution, as if caught in the invisible hands of a precocious six-year-old, and the film is not afraid to repeat such stunts, or bad one-liners like "I'm sorry," for the pure goofy hell of it. Hey, it works. The violence is graphic, plentiful and lends the film a much needed subversiveness to level out the taffy sensibility. As Gibson's mentor, Fox, Angelina Jolie has chosen to keep her dialogue at a coy minimum, and in this R-rated sandbox where anything can happen, she utilizes the silence to emphasize wild sex and lust that's not there with her student. This is easily her choicest role in my opinion. She's finally iconic on screen. She's like Christina Lindberg in They Call Her One-Eye if those years of degradation and abuse never happened but the character still possessed a refined palette for mayhem (and bad tattoos).
Wanted banked $50 million this weekend, we can once again wonder where—not so much the comic book movie—but the action genre goes from here. Obviously, a sequel to Wanted is happening. And in post-post-Matrix worlds like Wanted's where snipers can blow out the brains of marks from across an entire city, using tribal-etched, bending bullets like messenger pigeons (god, that sounds like it would be lame on film), we can expect more plots, characters and stunts that treat the adrenal gland like mystery meat in films that will more likely than not belong in a loony used DVD bin. John Woo goes big budget, R-rated Mouse Hunt for a subgenre, one fathered by The Transporter. To answer the film's rhetorical "What the fuck have you done today?" line, I haven't done much, but Timur Bekmambetov just let a lucrative cat out of the bag where any 20something character with a gun is Superman with a magic bathtub (don't ask questions viewers), and right now the potential for exploiting this free-for-all style is breeding inside the heads of movie execs like feral rabbits. Unlike Rambo, which was a similarly violent but sturdier crowd-pleaser, Wanted is recalled like a lobotomy days later. Also, Common is sticking around.7/10
Bonus Semi-Unrelated Movie Experience: Before I went into the screening room for Wanted, I waited online with my friend for 15 minutes to simply purchase a drink, blahblah. Between the totally unnecessary bombardment of trailers playing on TVs all around us (more than I've ever seen in a lobby this summer or ever), posters vying for every inch of personal space, and lots and lots of loud people in sandals it was pretty intense. In front of us was an old fat guy wearing a pink, salted cap. He already had an XL popcorn and a huge soda. Why the fuck was he on line again? At his feet was a little kid carrying an empty, greasy popcorn bucket. They get to the front, I'm already over the wait. They take forever for no apparent reason. I say to my friend, "This is a fucking anxiety attack waiting to happen. What is going on?" Finally, the old dude boosts the little kid up to the counter, and the kid drops 50 cents into the hand of the theater employee. His bucket is filled with popcorn, topped off with five huge buttery squirts and handed back to him, while still in the old guy's grip. Then the little kid says, "Thank you" and waddles off. And the old guy says, "You're welcome. Have fun lil' buddy." He then buys four boxes of candy. They were complete strangers. Maybe you had to be there, but it was fucking bizarre. After taking a seat in the screening room with a small Sprite and five Sour Patch Kids wrapped in a napkin, the movie started. It was that much more enjoyable watching a modern dork/hero gobble Xanax after Xanax to counter severe anxiety induced by the world's expanding suckage.
Movie Rating due to this experience: 7.5/10