2008 Saturn Awards Winners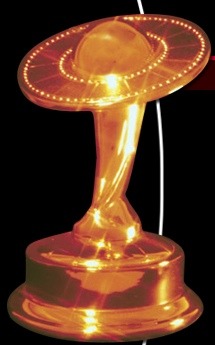 The 34th Annual Saturn Awards took place last night. Here is a list of all the winners:
Best Science Fiction Film: Cloverfield
Best Fantasy Film: Enchanted
Best Horror Film: Sweeney Todd: The Demon Barber of Fleet Street
Best Action/Adventure/Thriller Film: 300
Best Animated Film: Ratatouille
Best International Film: Eastern Promises
Best Actor: Will Smith (I Am Legend)
Best Actress: Amy Adams (Enchanted)
Best Supporting Actor: Javier Bardem (No Country for Old Men)
Best Supporting Actress: Marcia Gay Harden (The Mist)
Best Performance by a Younger Actor: Freddie Highmore (August Rush)
Best Director: Zack Snyder (300)
Best Writer: Brad Bird (Ratatouille)
Best Music: Alan Menken (Enchanted)
Best Costumes: Colleen Atwood (Sweeney Todd)
Best Make-Up: Ve Neill, Martin Samuel (Pirates of the Caribbean: At World's End)
Best Special Effects: Transformers
Best DVD Release: The Cabinet of Dr. Caligari (Remix)
Best DVD Special Edition: Blade Runner (5 Disc Ultimate Edition)
Best DVD Classic Film: The Monster Squad
Best DVD Collection: Mario Brava (Box Sets 1 & 2)
Best Television Series on DVD: Heroes (Season 1)
Best Network Television Series: Lost
Best Syndicated / Cable Television Series: Dexter
Best Presentation on Television: Family Guy: Blue Harvest
Best Actor on Television: Matthew Fox (Lost)
Best Actress on Television: Jennifer Love Hewitt (Ghost Whisperer)
Best Supporting Actor on Television: Michael Emerson (Lost)
Best Supporting Actress on Television: (TIE): Summer Glau (Terminator: The Sarah Connor Chronicles) / Elizabeth Mitchell (Lost)
Best Retro Television Series Release on DVD: Twin Peaks (Definitive Gold Box Ed.)
The Filmmakers Showcase Award: Matt Reeves (Cloverfield)
The Life Career Award: Robert Halmi, Sr. and Robert Halmi, Jr.
The George Pal Memorial Award: Guillermo del Toro
The Special Achievement Award: Tim & Donna Lucas
The Service Award: Fred Barton
You can read a full listing of the nominees on the official Saturn Awards website.