Bolt Teaser Poster; A Look Back At American Dog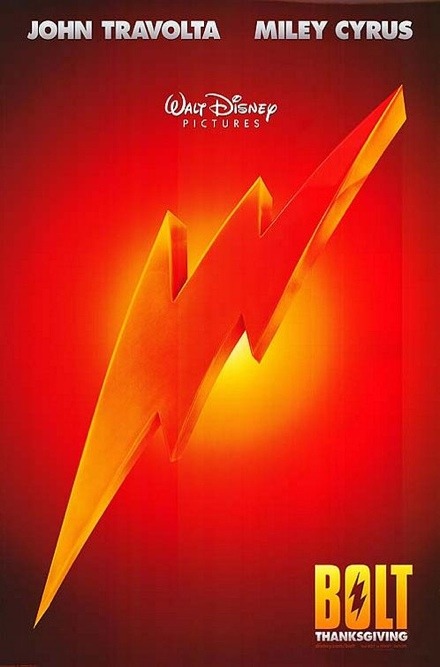 I hear that the teaser trailer for Bolt will probably be attached to Pixar's WALL-E, which hits theaters next week. Disney has just released the first theatrical teaser poster (as opposed to the teaser poster which has been on display at Disneyland) for the movie, which makes this that much more likely. But before you see the teaser trailer, lets take a look back at the project's troubled history.

Originally titled American Dog, Chris Sanders was attached to write and direct. But Sander's vison of the animated movie was a little "too bold". His early concepts featured a one-eyed cat and an oversized radioactive rabbit (see the publicly released concept art below). Disney was supposedly looking for something a bit more "mainstream". Funny, considering that Sanders is responsible for Disney's last popular non-Pixar character/movie, Lilo & Stitch. Sanders was replaced by Chris Williams and Byron Howard, and the film was rewritten and retitled Bolt.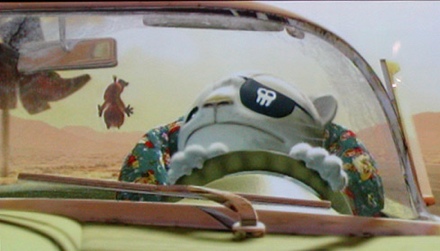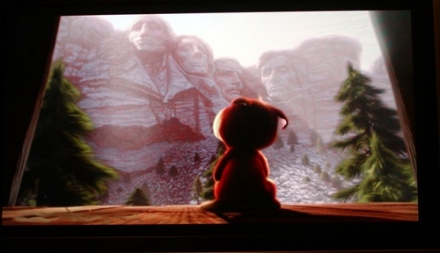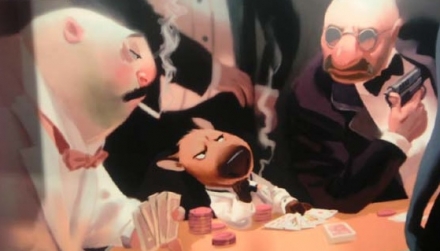 And this is what Bolt looks like...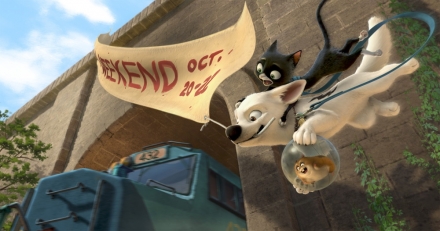 One must remember that Brad Bird replaced Jan Pinkava on Ratatouille, which was went through rewrites, and look how that turned out. But on the other hand, Ratatouille had Brad Bird, Bolt has Chris Williams, who was a writer on Mulan and The Emperor's New Groove, and Byron Howard, who was a Supervising Animator on Chicken Little and Brother Bear. The characters look very generic, at least at first glance. Also, the casting of Miley Cyrus doesn't instill confidence (click here to watch Miley explain her character and see a bit of unfinished footage from the film). I'm very interested to see the teaser trailer. With John Lasseter in charge as Chief Creative Officer of Disney Animation, you have to put a little faith in the decision to take the project in a totally different direction.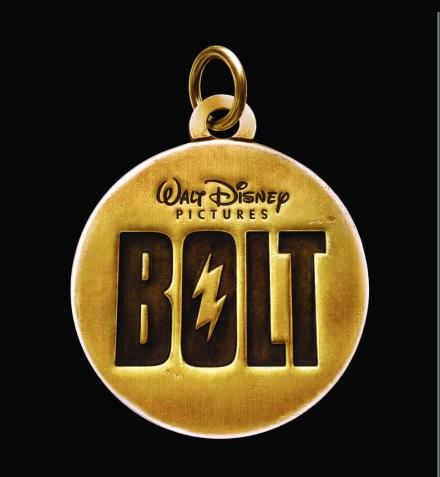 The official plot synopsis follows: For super-dog Bolt (voiced by John Travolta), every day is filled with adventure, danger and intrigue – at least until the cameras stop rolling. When the canine star of a hit TV show is accidentally shipped from his Hollywood soundstage to New York City, he begins his biggest adventure yet – a cross-country journey through the real world. Armed only with the delusions that all his amazing feats and powers are real, and with the help of two unlikely traveling companions – a jaded, abandoned housecat named Mittens (voiced by Susie Essman), and TV-obsessed hamster in a plastic ball named Rhino – Bolt discovers he doesn't need superpowers to be a hero. Miley Cyrus ("Hannah Montana") brings her vocal talents to the role of Penny, Bolt's human co-star on the television series.
Bolt will hit theaters on November 26th, 2008 in Disney Digital 3-D™.
contributing sources: IMPAwards, blogspot, AICN, Animation Nation